It was a brisk November evening in the design district of Manhattan. Igne Ferro USA and John Lyle Design launched their beautifully combined showroom on East 58th Street. The chic affair had a VIP guest list of real estate celebrities, Interior Design legends, influencers-trendsetters and fashion notables.
Upon entering the long, rectangular, big-windowed storefront – I was greeted by a smiling Carl Lana who is handling architect and developer sales for Igne Ferro USA part of the business. He gave me a quick heads up to the coat check location in the rear of the showroom. So of course, I began removing my jacket as I walked through the well-attend early arrival part of the soiree.
But, my faux fur scarf did not come off so gracefully. I'm not sure if I was choking or spinning but I was rescued by Interior Designer, Evan Koopman. who unbuttoned me out of my faux fur frenzy. After checking my coat – I began to mingle through the crowded party. I noted the exact location of the sushi chef and generous assortment of delicious fresh sushi. 'I'll have another Dragon Roll please'.
I spied John Lyle sporting a boyish charm and signature eye frames. He has fashioned John Lyle Design as the go-to resource for made-to-order furniture, lighting, and fireplace equipment for over 30 years. His elegant sculptural pieces are crafted from hand-cast bronze, steel, wood, shagreen, and parchment and are often coveted and specified by interior designers worldwide. John's has 'good taste' and everyone knows it. Which is explains why everyone attended this party.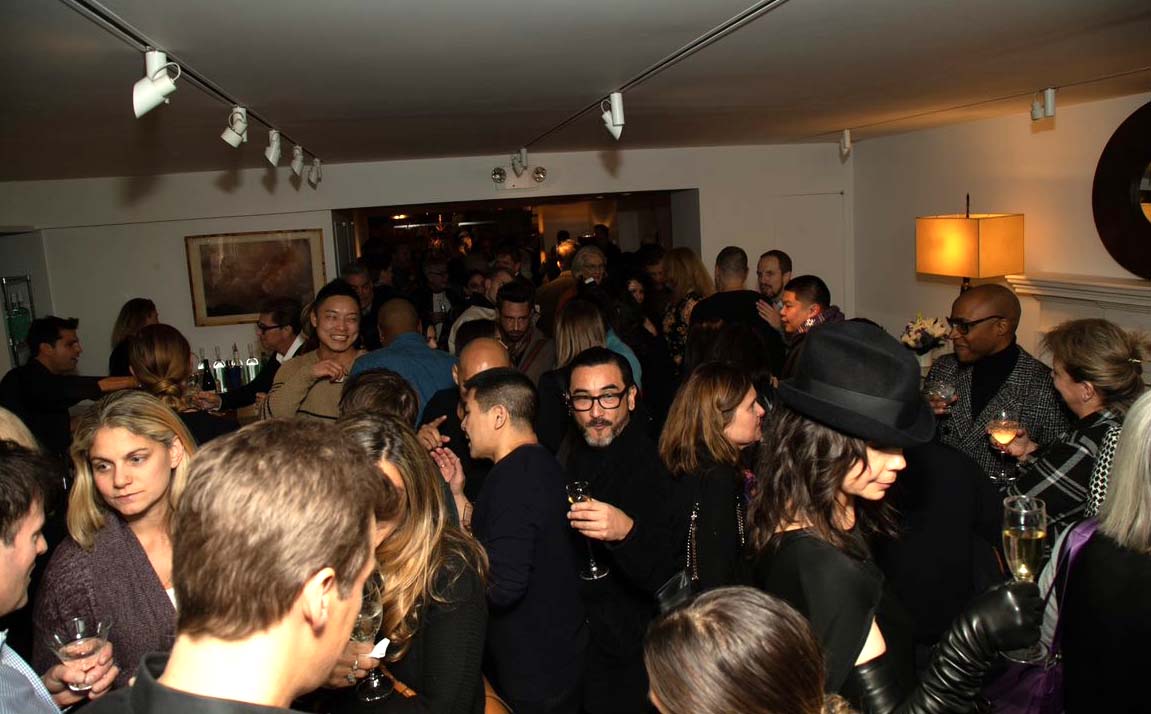 Among those in attendance were Interior Designer / Photographer Matthew Patrick Smyth along with Ellie Cullman, and her team the 'Cullman-nettes' – #joking, I'll probably have to remove that – but early readers can have a chuckle. Ellie generally travels with a talented team of attractive ladies. Carl D'Aquino arrived soon after Benjamin Noriega-Ortiz and his partner in fashion and in life Steven Wine. I spied Roric Tobin and his little dog too – I think they had matching scarfs. As I shimmied past the bar area I could sense the good energy and positive vibes of Robin Baron and her loyal right-hand gent Yudi Kaufman.
There were so many people – I had to twerk just to get closer to the entry – where I found the step n'repeat on fire with a bevy of paparazzi snapping pictures of Garrow Kedigian + David Salvatore, Joe Nahem, and John Douglas Eason. It was so annoying until they asked for my picture. I vogued with fashion designer Marisol Deluna, who touts a beautiful collection of hand printed pillows and then posed with debonnaire Darcy Fulton who is developing business nationally for John Lyle Design.
Just as Interior Designer, Bonnie Steves was telling me about her new Instagram strategy – Lisa Ben-Isvy reminded me that CAMBRIA is also represented at this exclusively selected, multi-line showroom. Igne Ferro has a custom line of gorgeous mantels along with professional-grade kitchen appliances by Hestan. This combination space is like a gallery full of functional art. I'd swear that I saw an outdoor grill that looked like a sculpture of an outdoor grill but was really just a super-sized super-cool outdoor grill. 'I'll have another Dragon Roll please'.
I think it was artist Nathaniel Galka who mentioned gas fireplaces by Ortal are the leaders in design and technology or did he actually mention his artwork hanging above one of the Igne Ferro's custom mantels? Regardless, Mr. Galka was having a fashion moment along with Rajni Alex, Corey Damon Jenkins, and Pierre & Lori Lenis, who I like to call #plentis.
I couldn't stay until the end of the party – I was off to the Wendy Goodman book publishing discussion at NYSID. All the best events reveal on the same night. As I made a graceful exit and waved to the handsome Andrew Joseph PR team – or are they his security, I can never tell these days – I saw the handsome Milliner Rod Keenan, art curator Inhee Iris Moon, and real estate brokers Tom Postilio and Mickey Conlan from HGTV's Selling New York series.
Bravo!! Igne Ferro and John Lyle Design – your opening night party was a curated coterie of collectors and connectors. #chicaffair