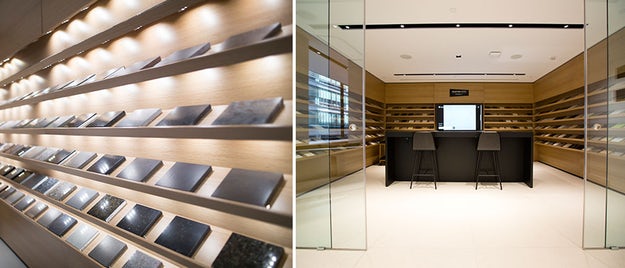 Cosentino, the beautiful high-end stone surface manufacturer joined forces with Lladró, the luxury porcelain lighting and decor atelier to create a smooth and stylish evening.
Cosentino is located in the trending A&D Building – which is known as New York's best address for kitchen, bath and fine furnishings. Legendary, Holly Hunt is on the ground floor, right next to B & B Italia and there is an expansive Sub-Zero showroom on the fifth floor. There is a chic Brazilian cabinetry company called Ornare on four. Now that you've had a building tour – let's get back to the party.
Over 150 guests flooded into the beautifully appointed stone slabbed showroom. Spanished themed jazz tunes played in the background, while notable design talents chattered in Spanglish. It is parties like these that remind you of how New York is so wonderfully diverse. Both Cosentino and Lladro are of Spanish heritage. Both are expanding – Lladro is moving into a larger location in the popular D and D Building and Cosentino now has 3 locations in New York. It's no wonder the theme for the February 13th event was "Fall in love with Spanish design".
Celebrating pre-Valentine's Day were Asler Valero + Liz Nightingale + Benjamin & Elizabeth Huntington + Jaime Walters (recently profiled on this site) + Rajni Alex + Arlene Angard + Sarah Saeli + Melissa Groher + Peti Lau + Katherine Scully + West Chin + Alyssa Abrams and many other international design enthusiasts.
Thank you, Mirra Studios for the use of your beautiful party pictures. Thank you LLADRO AND COSENTINO – your Spanish design themed fiesta made my
corazón

skip a beat or maybe it was the flash from the photobooth.