The eighth annual "What's New,What's Next" took over 200 Lexington Avenue on Thursday, September 22nd. More than 80 showrooms featured product debuts, informative lectures, book signings and some really fun parties. Once again, major media sponsors like New York Magazine, Architectural Digest, Luxe Magazine and Editor at Large mixed with the industry's most notable names in the programming and hosting the celebratory events.
2016 marks the New York Design Center's 90th Anniversary. A milestone in New York City history and the Interior Design industry. I wonder if design legends like Elsie De Wolfe, Dorothy Draper and Tony Duquette used to shop the building for their discerning clientele ? (its a trick question) Well, it is certain that current legends are touring the building as it has become the most progressive design center in the country.
The fun and challenge of #WNWN has been to see and be seen, but also gain knowledge and options about the ever-changing design industry. Jim Druckman, President of 200 Lex and creator of #WNWN and his fine team continue to unite the industry and celebrate the very best in design. Here are some images from the very festive day.
Honorable mentions to Thomas O'Brien, Clinton Smith, Patti Carpenter, Jamie Drake, Roger Thomas, Dennis Miller, Amy Lau, Marianne Howatson, Michael Boodro, Adam Tihany, Guillaume Gentet, Garrow Kedigan, Wendy Goodman and Amy Astley – we heard your presentations were terrific !!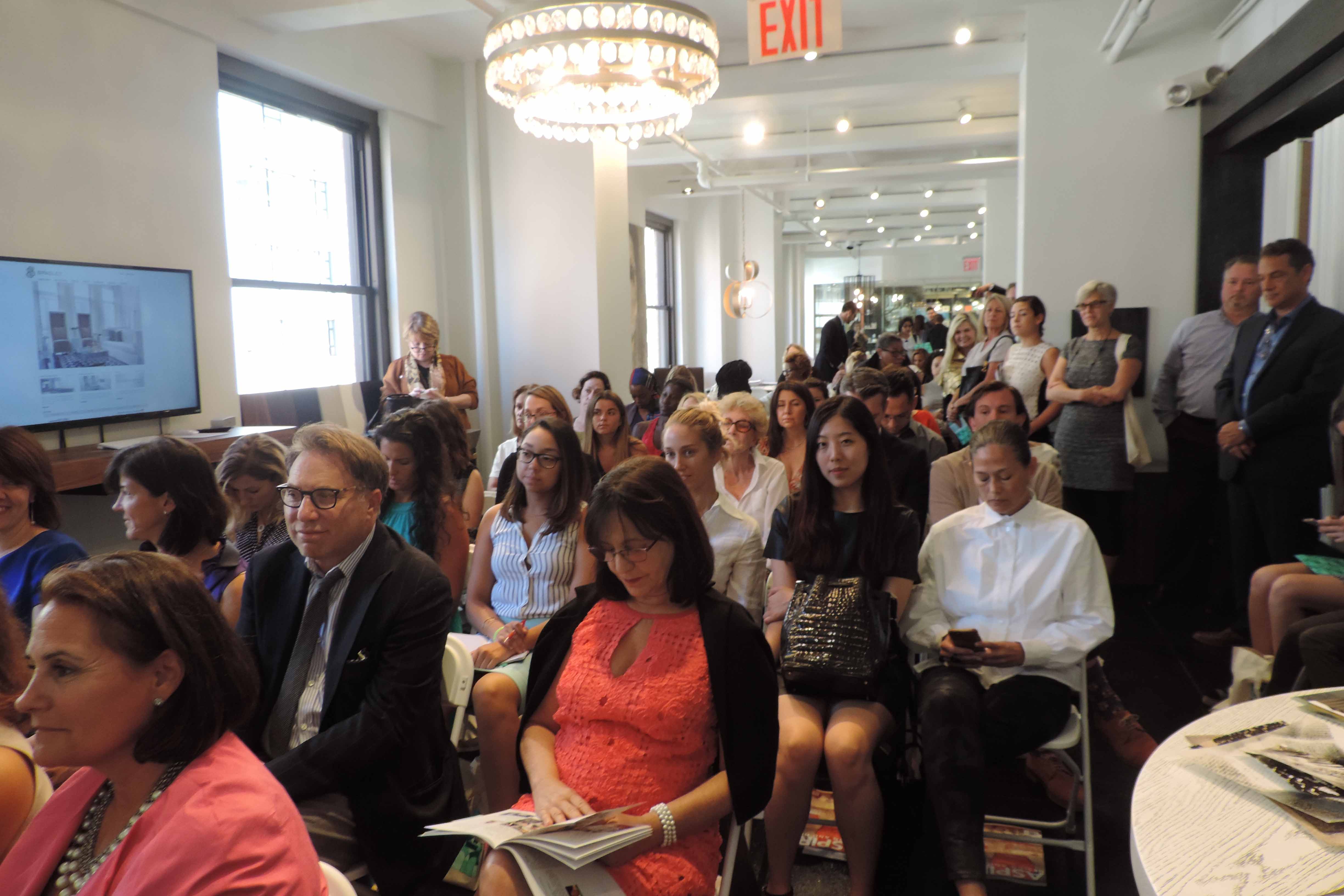 Full house at the new BRADLEY USA showroom where panelists Brett Beldock + Susan Jamieson + Tamara Stephenson & Susan Young are having a discussion on 'Building Your Emerging Brand'. Smooth talking James Swan #milliondollardecorator moderates the discussion.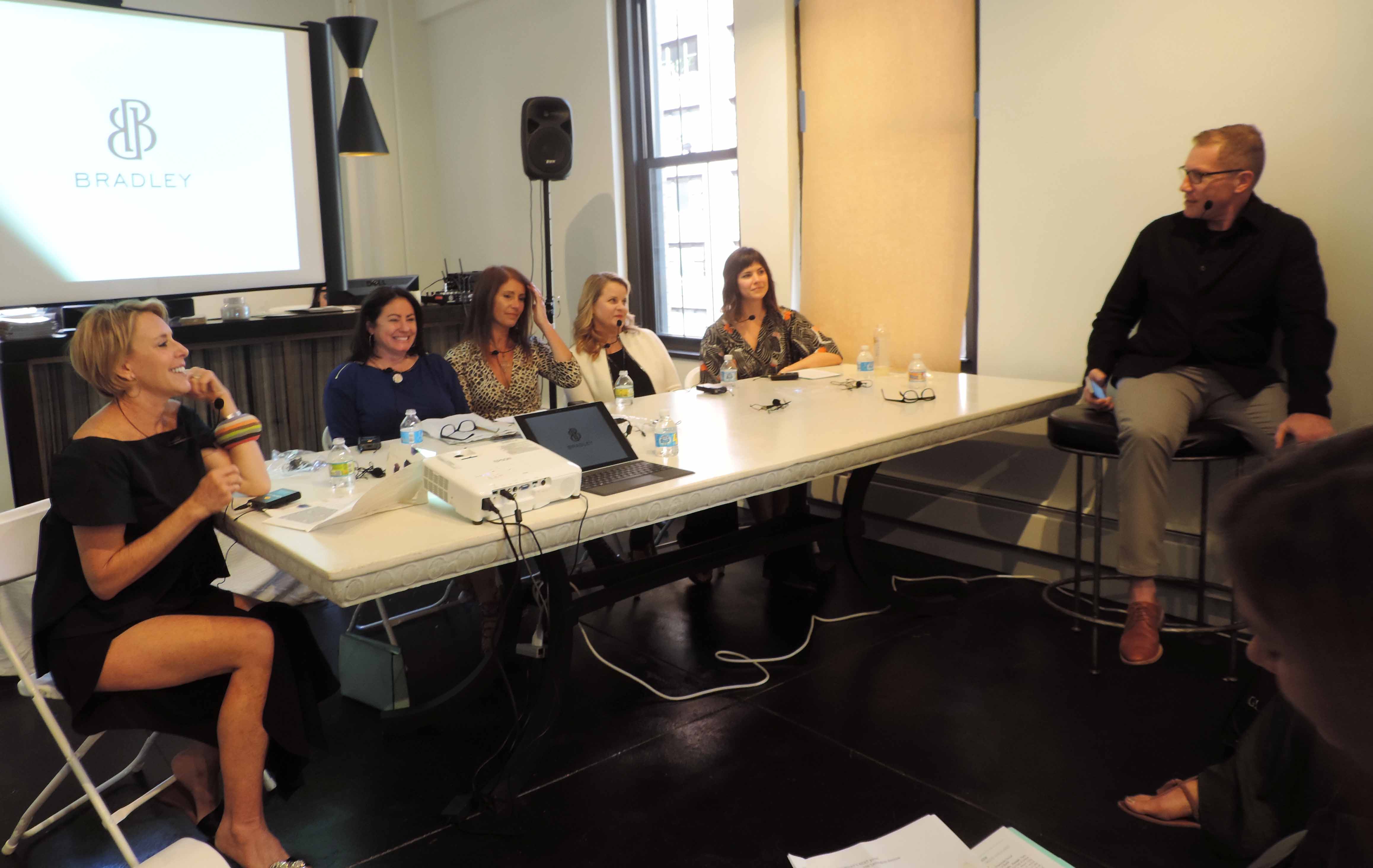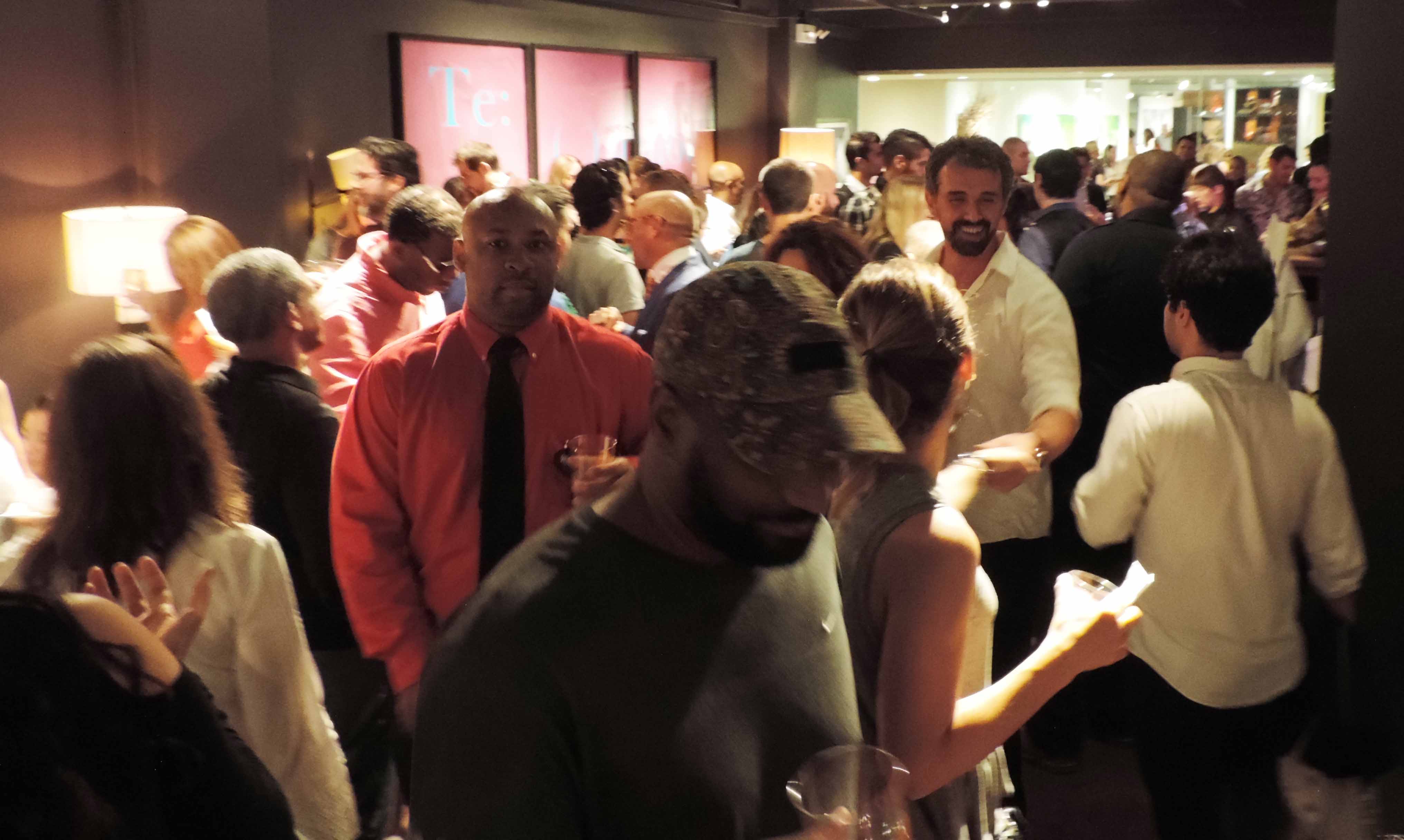 The New Traditionalists in Suite #701 hosted a 'Design Duo Face off' – with one of my favorite design duo's Lydia Marks & Lisa Frantz – The New Trad showroom also hosted Presidential Candidate look-alikes #theyscaredme.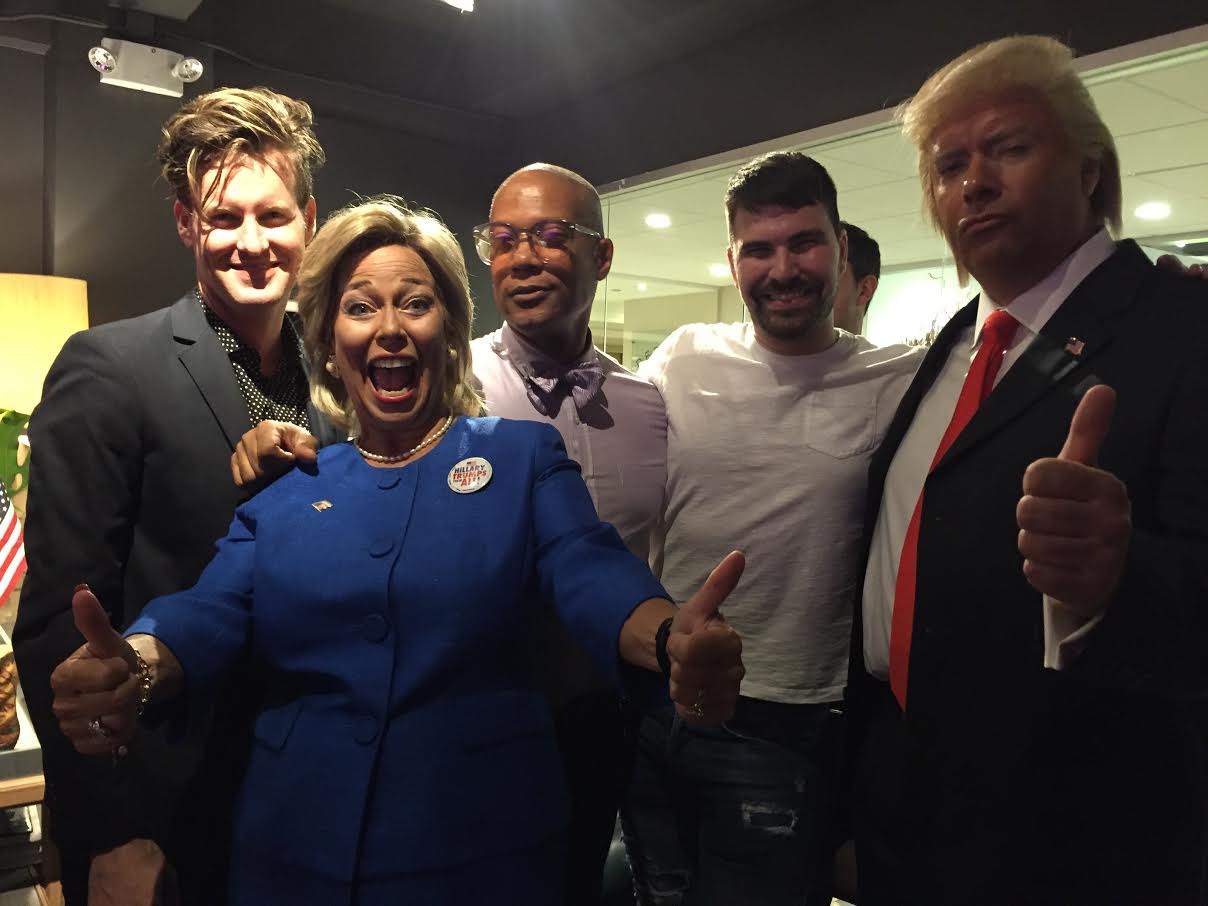 The timing for this political photo couldn't have come at better moment. Justin Shaulis and I descended the busy staircase en route to the seventh floor. We were having a political discussion and came to the same conclusion as Whoopi did in the movie 'Ghost' – "Molly you're in trouble, gurl"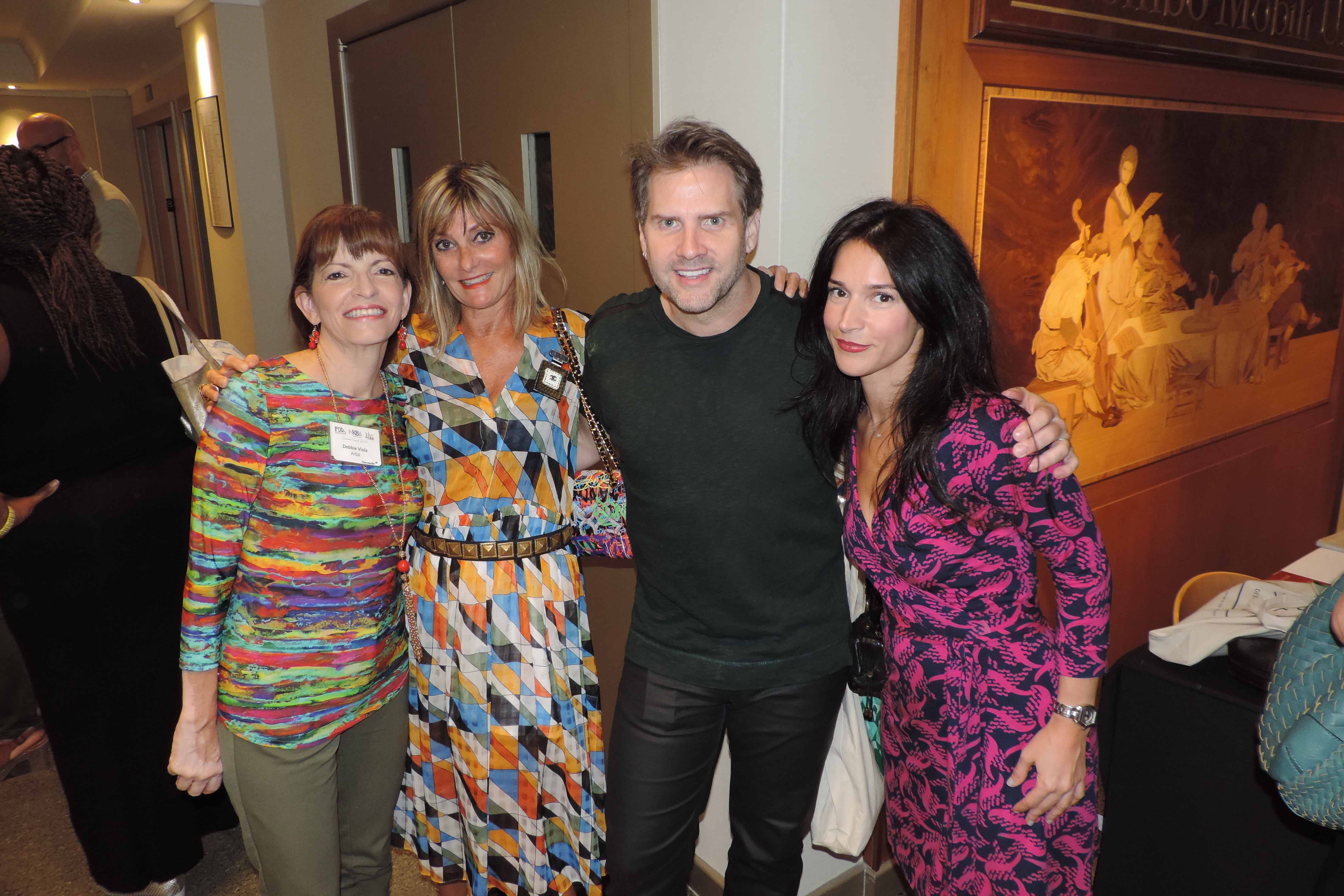 I love the mix of design aficionados at 200 Lex's 'What's New What's Next' #WNWN – artist Debbie Viola + designer Deborah Martin + designer Darrin Varden = fab industry rep Maureen Howard.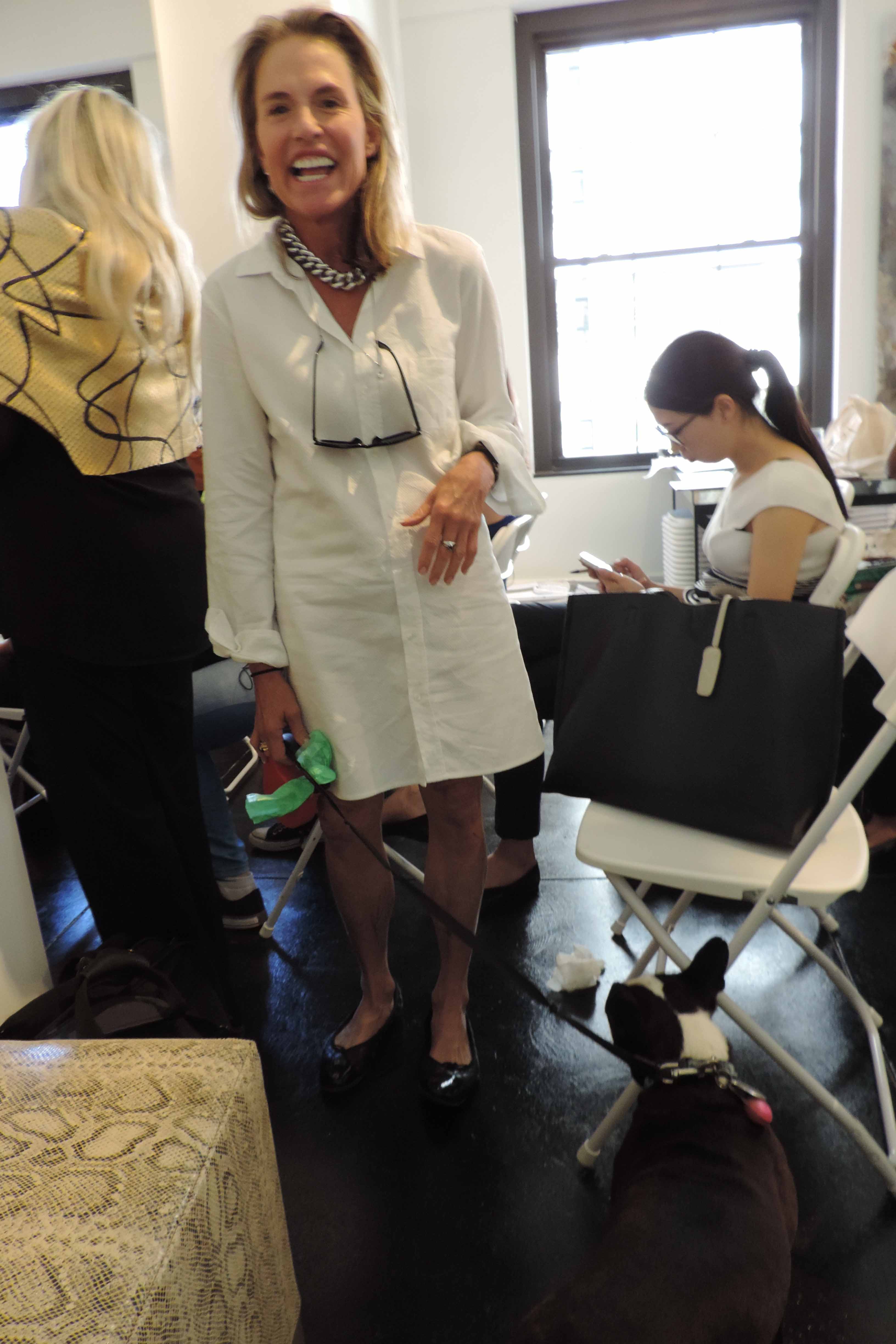 ooh la la, author and legendary design phenom Jennifer Post. Nobody does modern elegance like Jennifer Post and I adore her camera shy dog #yesreally.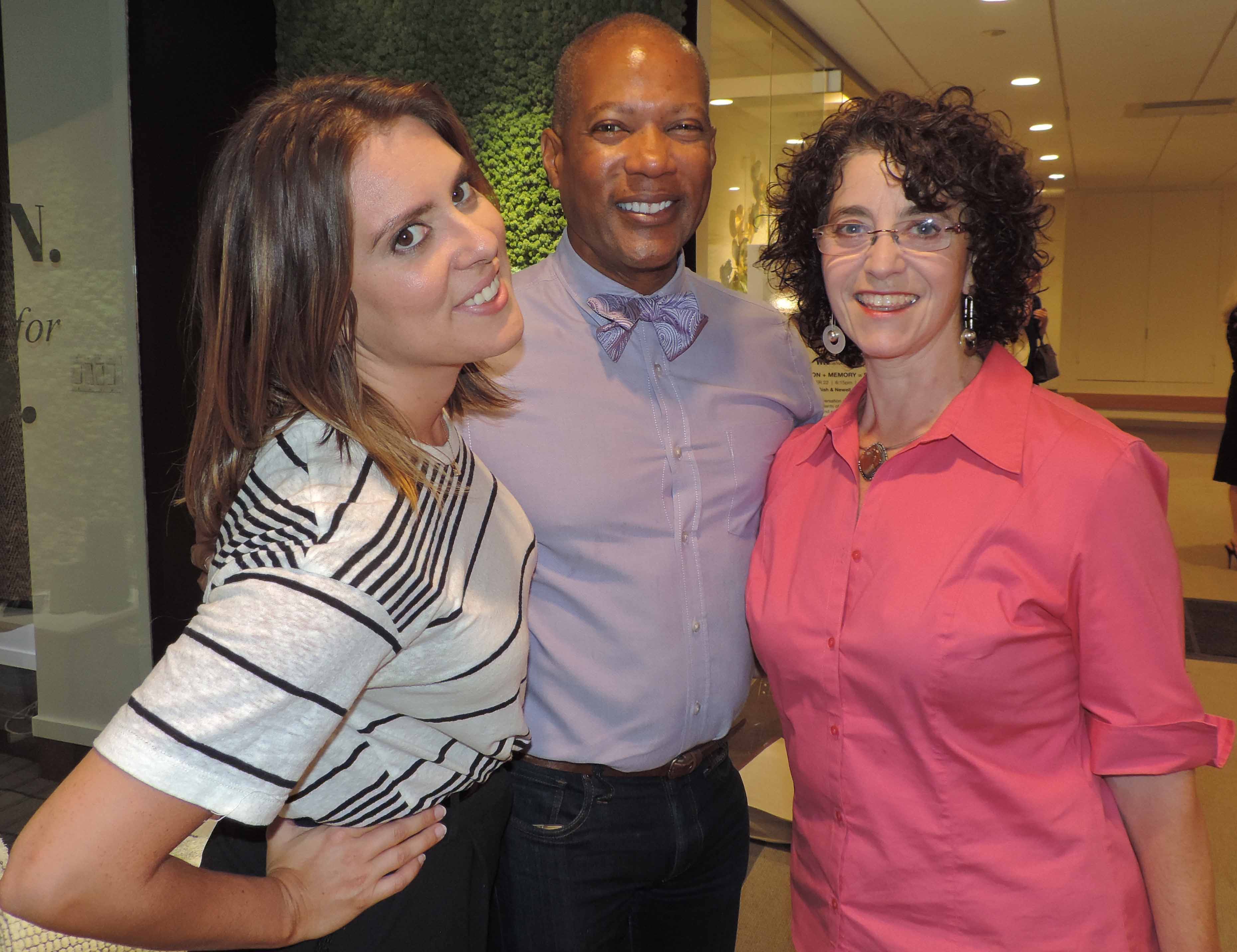 Jessica Robb -President -Robb Media Partners + Suzanne Sokolov – Executive Director – Designers + Builders Alliance of Long Island. Suzanne and her DBA team are putting together a very special event on October 18th with luminaries from the NY design world. I'm honored to be the Master of Ceremonies for 'Mystery by Design' – tickets are still available here.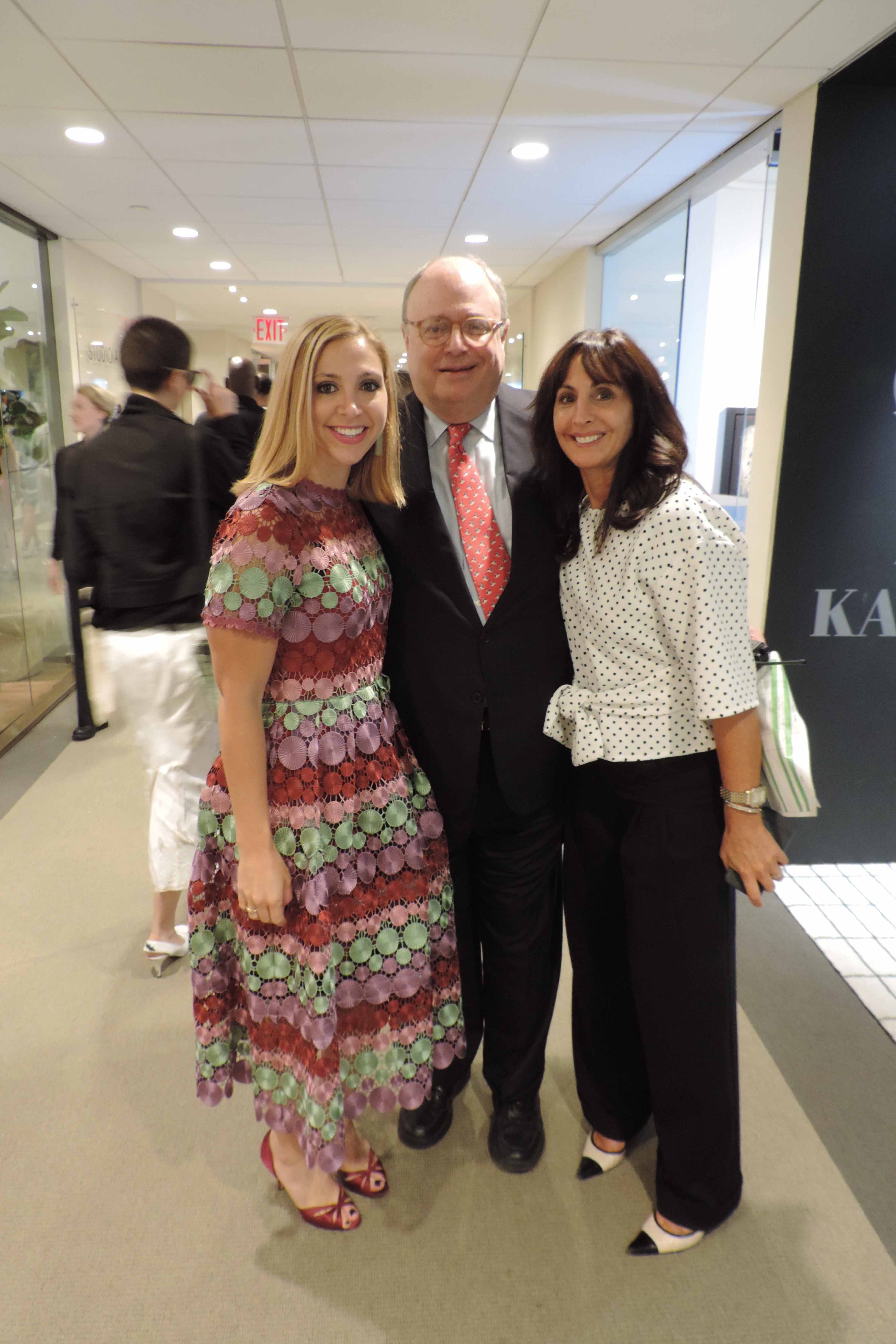 Jim Druckman – President of NYDC and on the board of countless charities (Housing Works, DIFFA, Kips Bay) #nonstopenergy stands between two lovely ladies Beth Kimless Greene + Alix Lerman.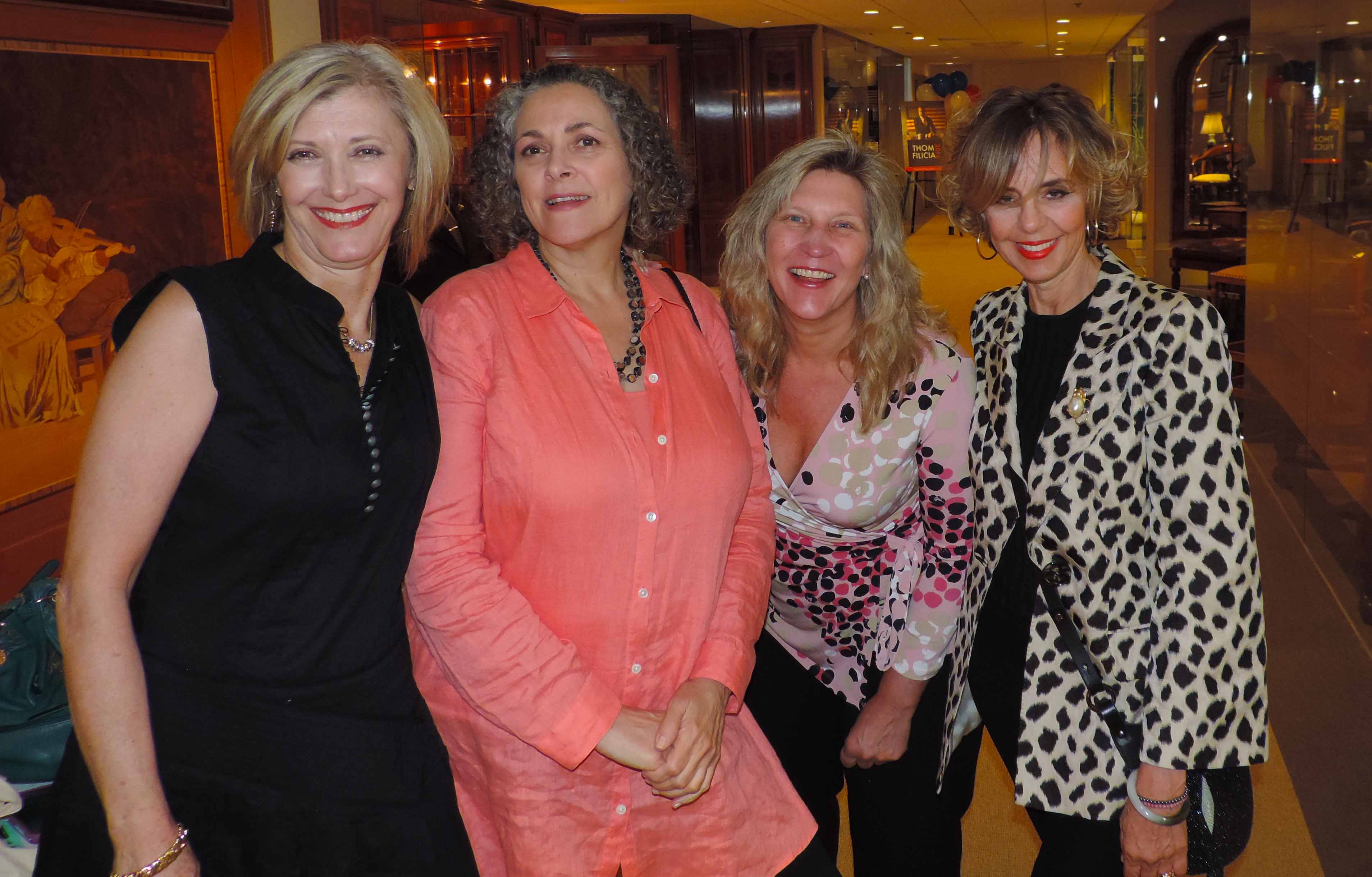 Design-Club-Delicious – I love when city ladies travel in fours- it reminds me of Sex in the City – whose who? Julie Schuster + Doria Kait + Sherri Skov + Bonnie Steves. Left Bank Art Studio on the six floor was hosting celebrities Designers like Barclay Butera, Kelli Elis and Bobby Berk – we missed the discussion but the party was off the hook.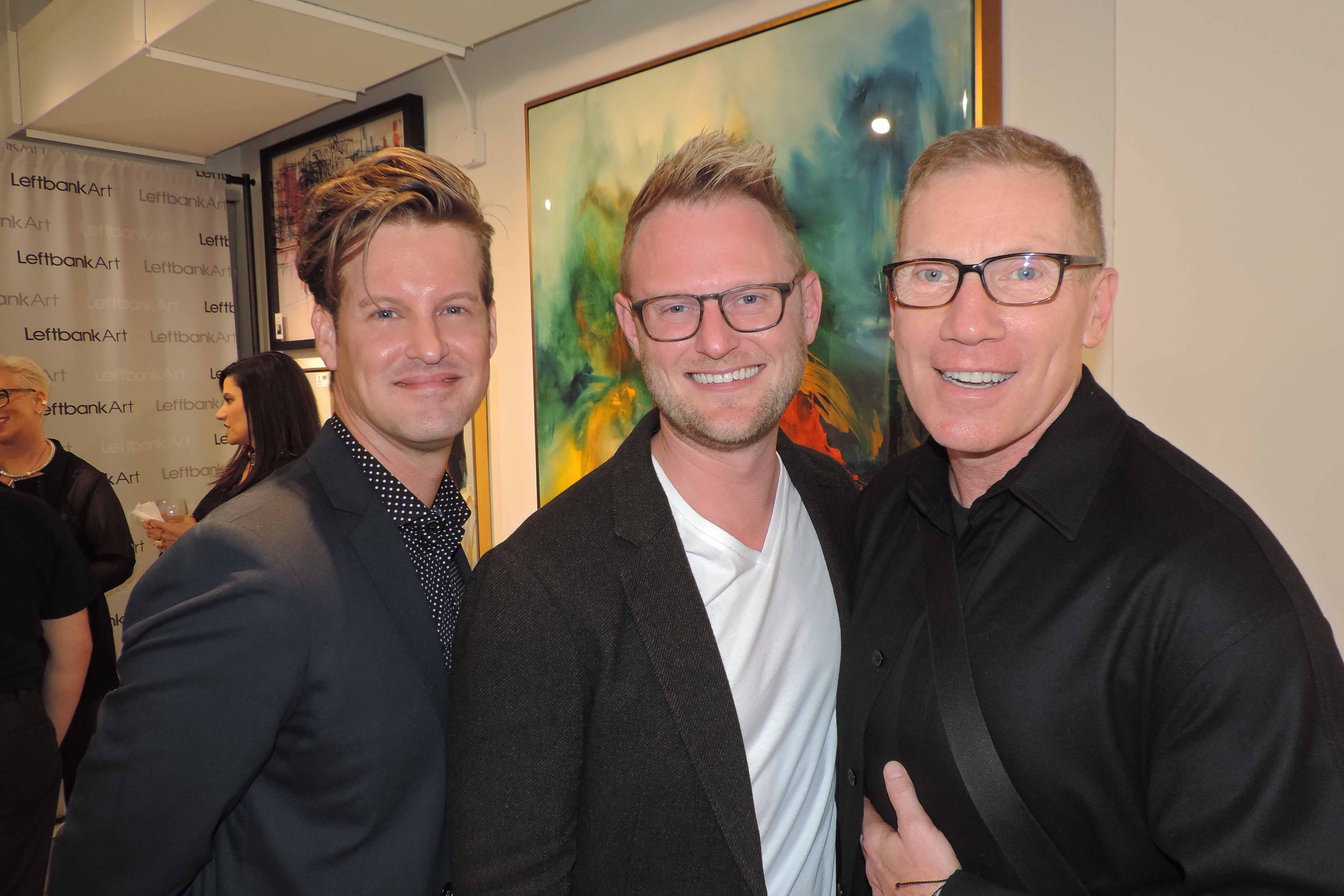 Left Bank Art Studio on the six floor was hosting celebrities Designers like Barclay Butera, Kelli Elis and Bobby Berk – we missed the discussion but the party was off the hook.
Handsome trio = Justin Shaulis + Bobby Berk + James Swan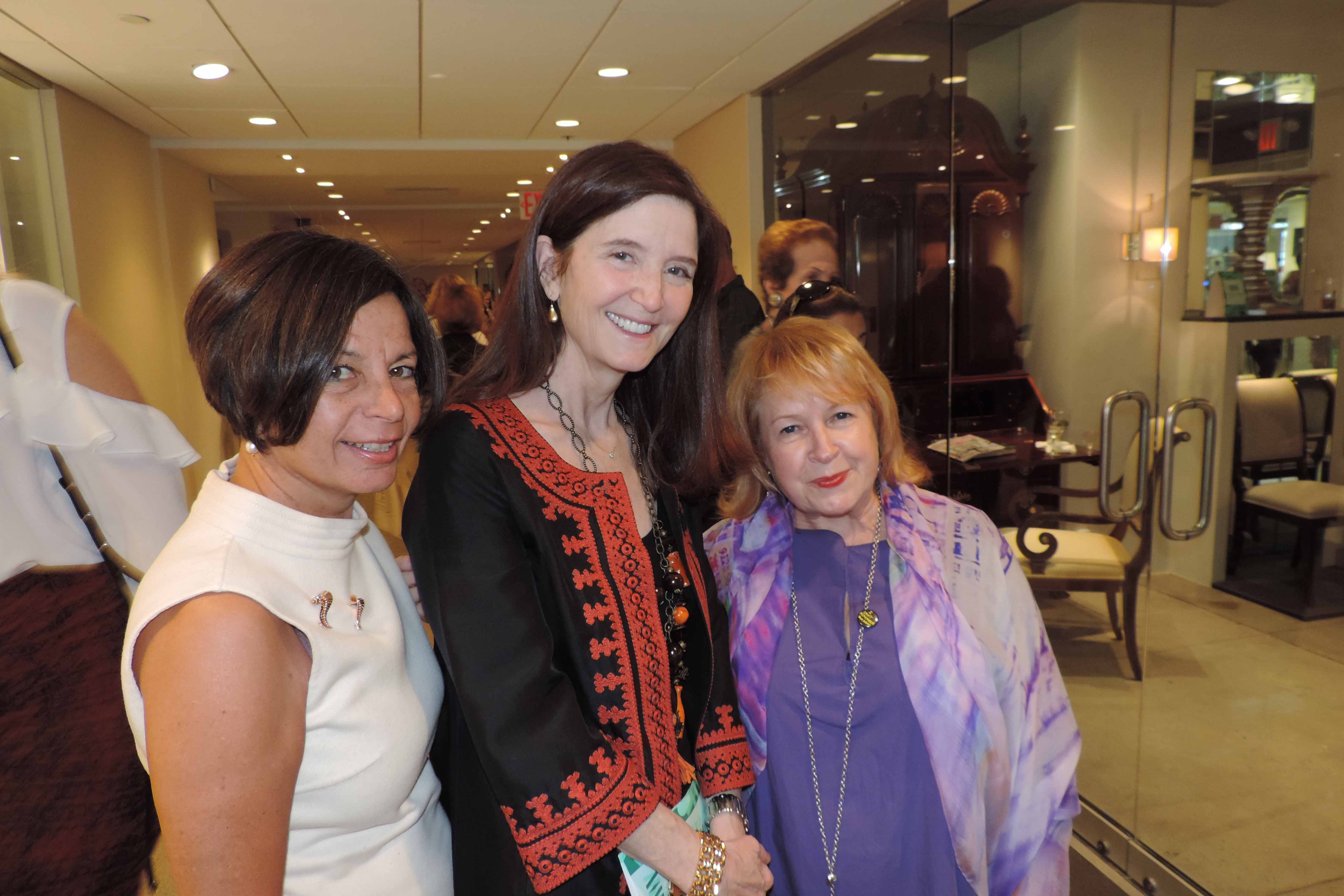 Ladies with style:Beth Dempsey + Stacey Bewkes +Bethanne Matari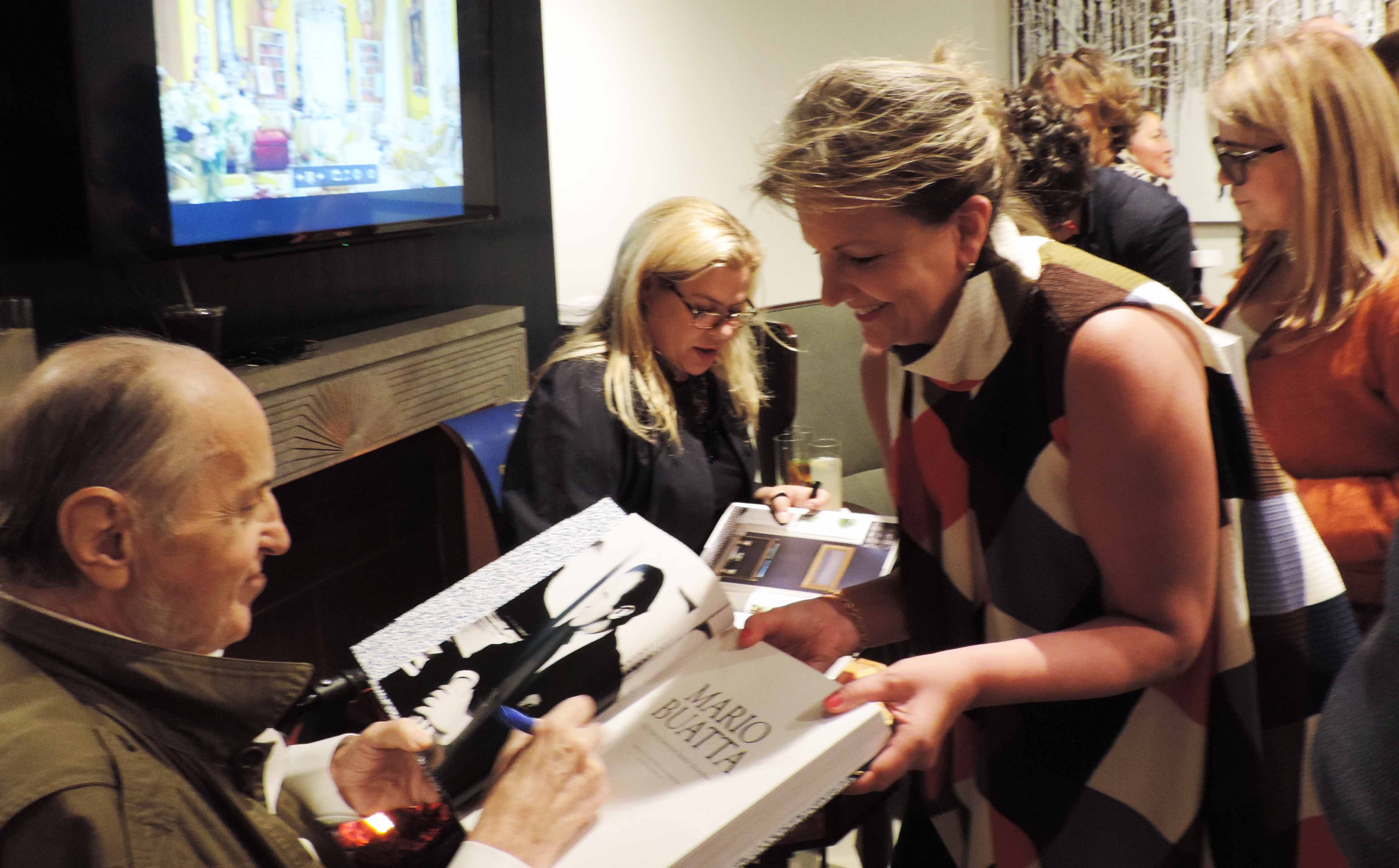 Legendary Interior Designer –Mario Buatta signs his book for Lori Sheldon of Traditional Home.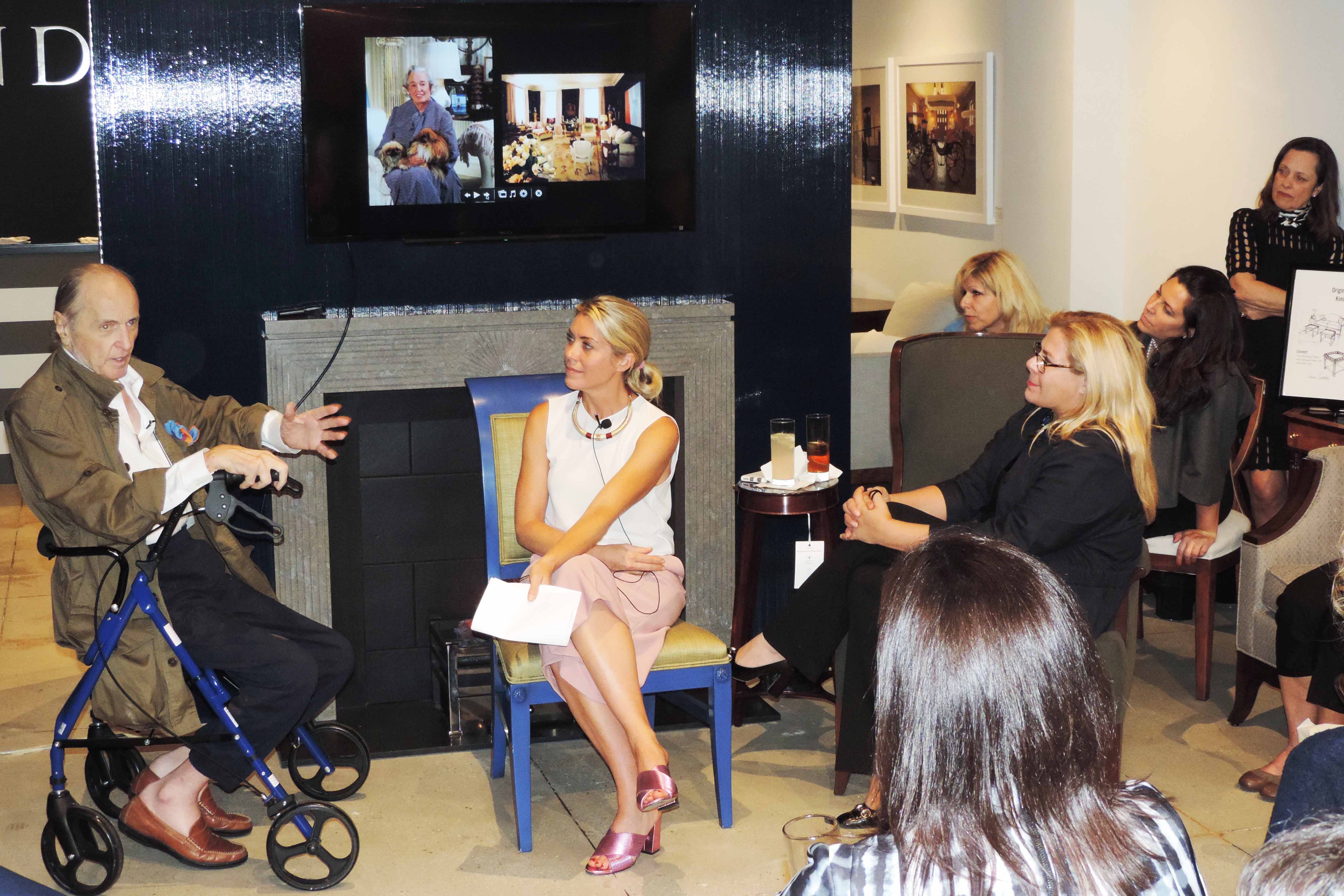 Kindle Furniture hosted cocktails and conversation with legends Alexa Hampton and Mario Buatta. The special conversation was moderated by Tori Mellot, Senior Design and Market Editor of Traditional Home. The audience delighted with the insider secrets on timeless, memorable homes.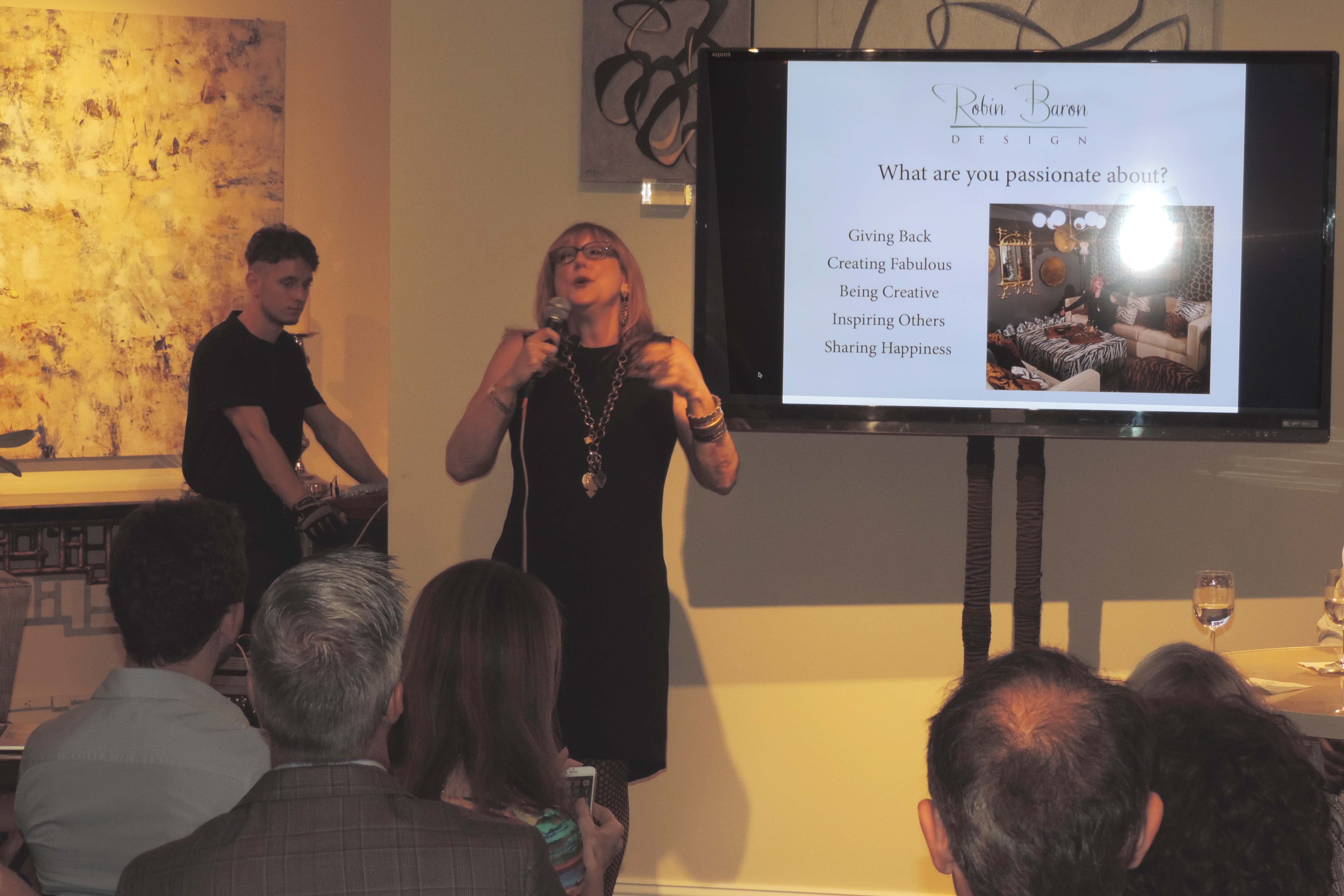 Robin Baron and Corey Damon Jenkins discuss "making your dreams come true" at the Lexington Home showroom on the second floor at 200 Lex.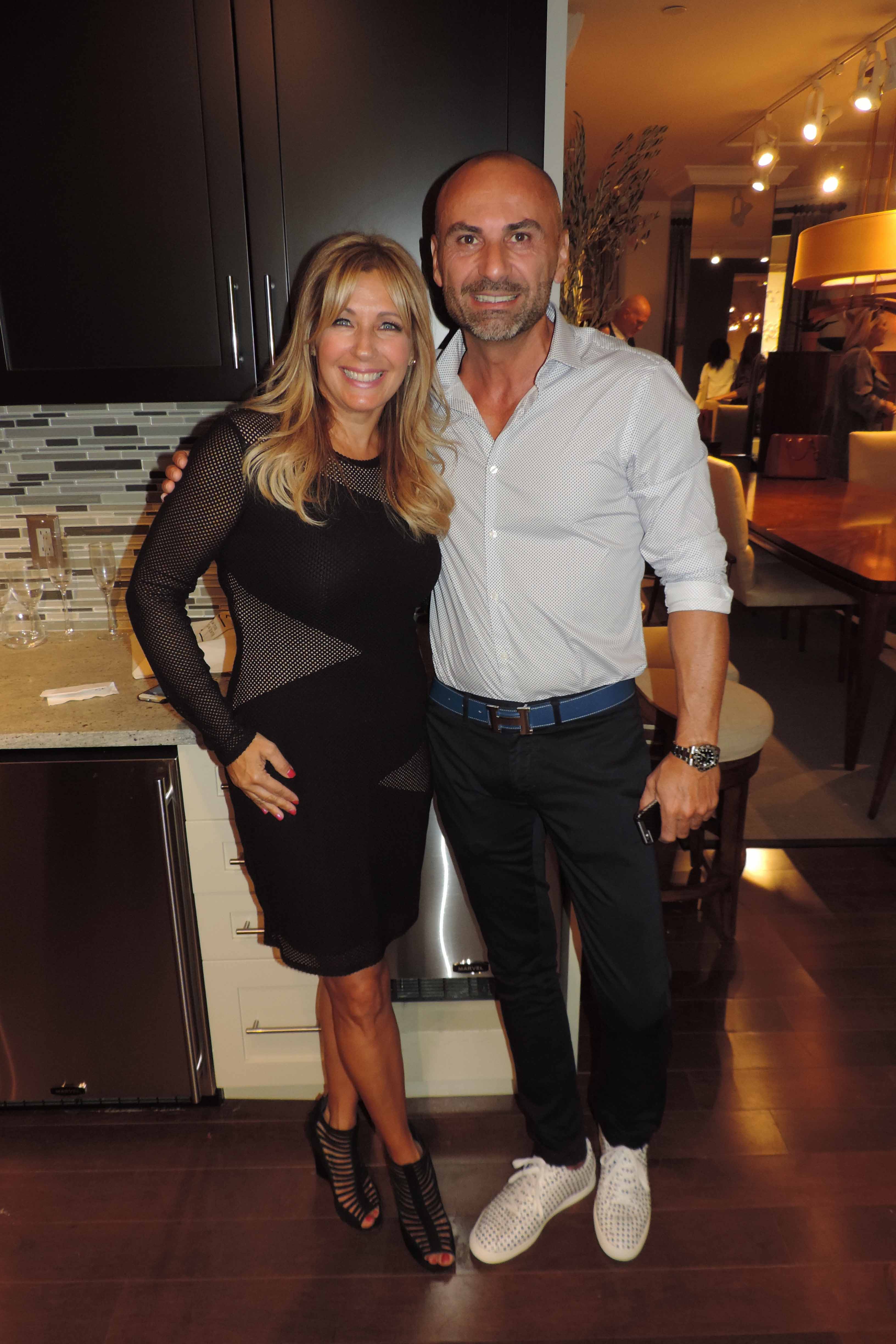 Gorgeous Marlaina Teich and handsome Vlad Tomasevic at the Lexington Home Showroom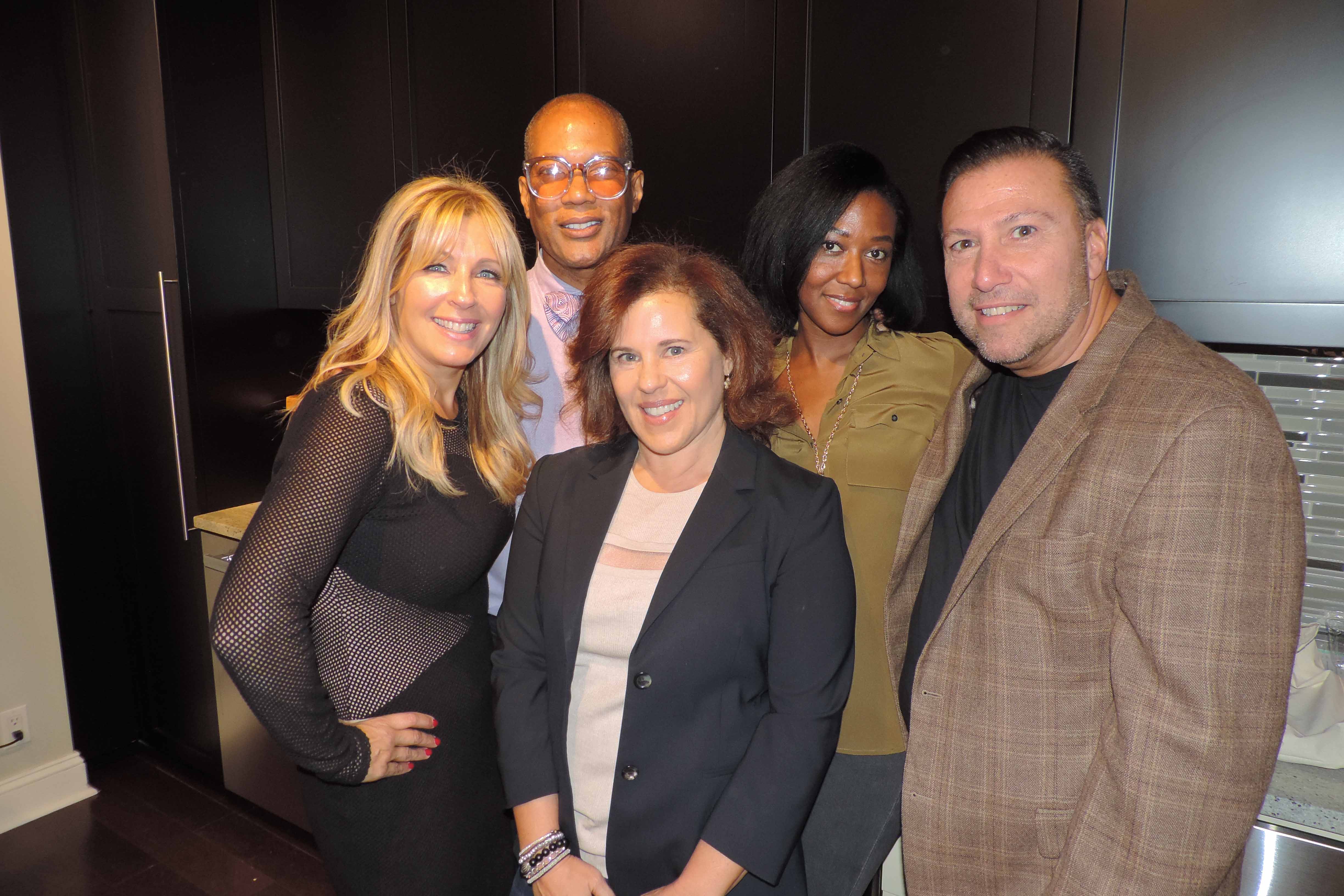 Marlaina Teich + Rio Hamilton + Carrie Schwartz Leskowitz + Keita Turner + Keith Mazzei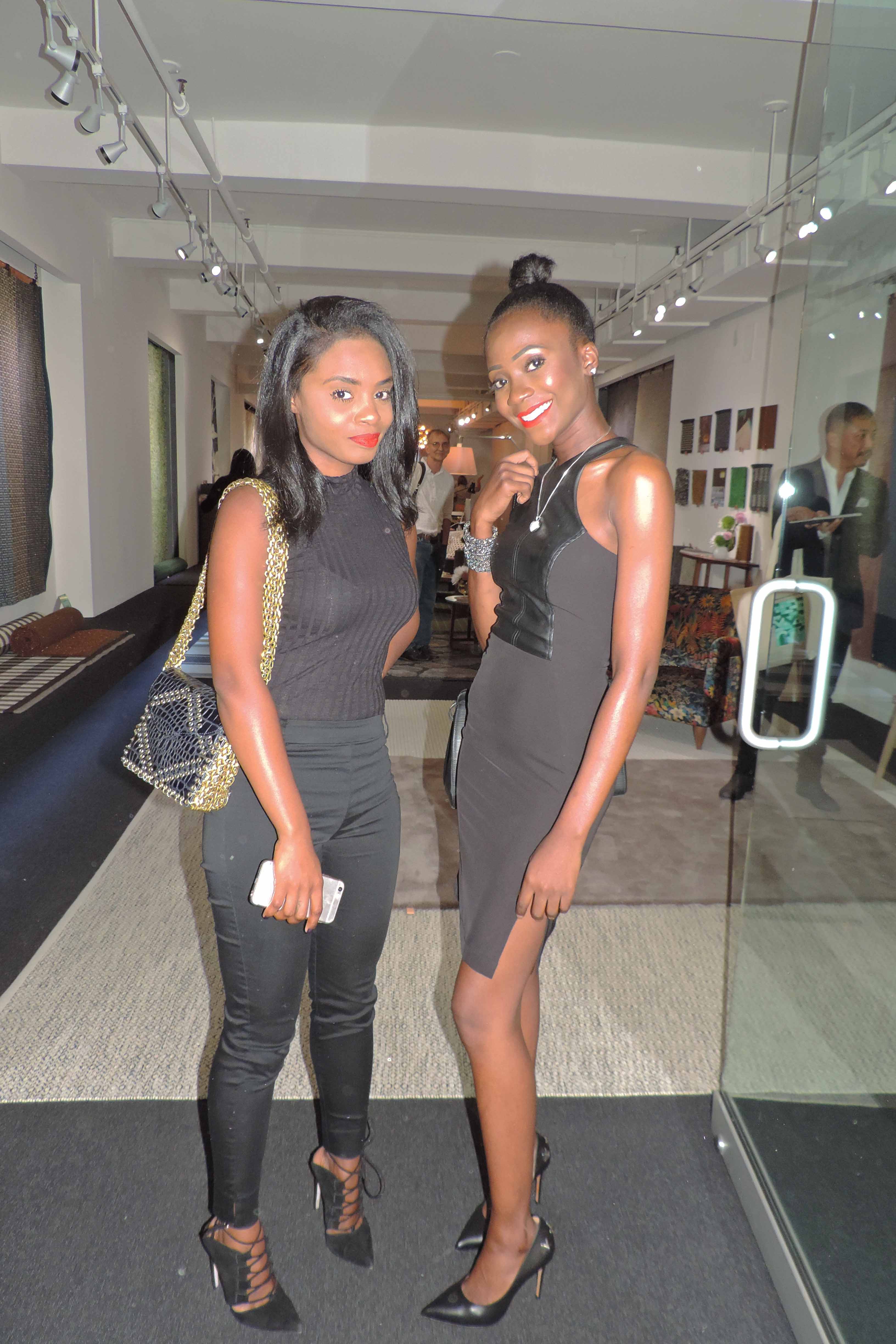 Model Behavior – couldn't resist these two stunning ladies – they have their own textile and pillow company and I can't find their business cards !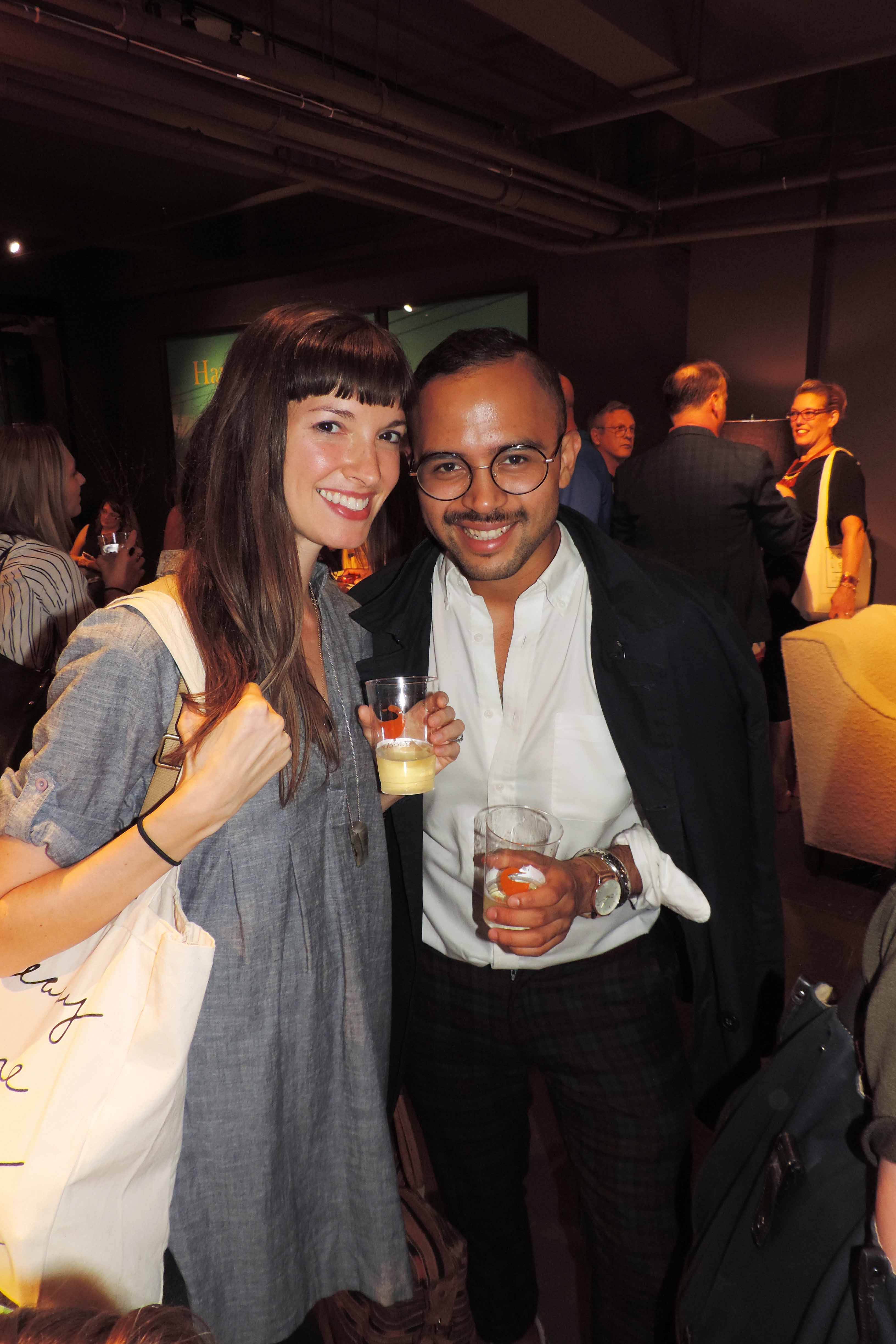 Katie Deedy from Grow House Grow + Bryon Cordero of Andrew Joseph PR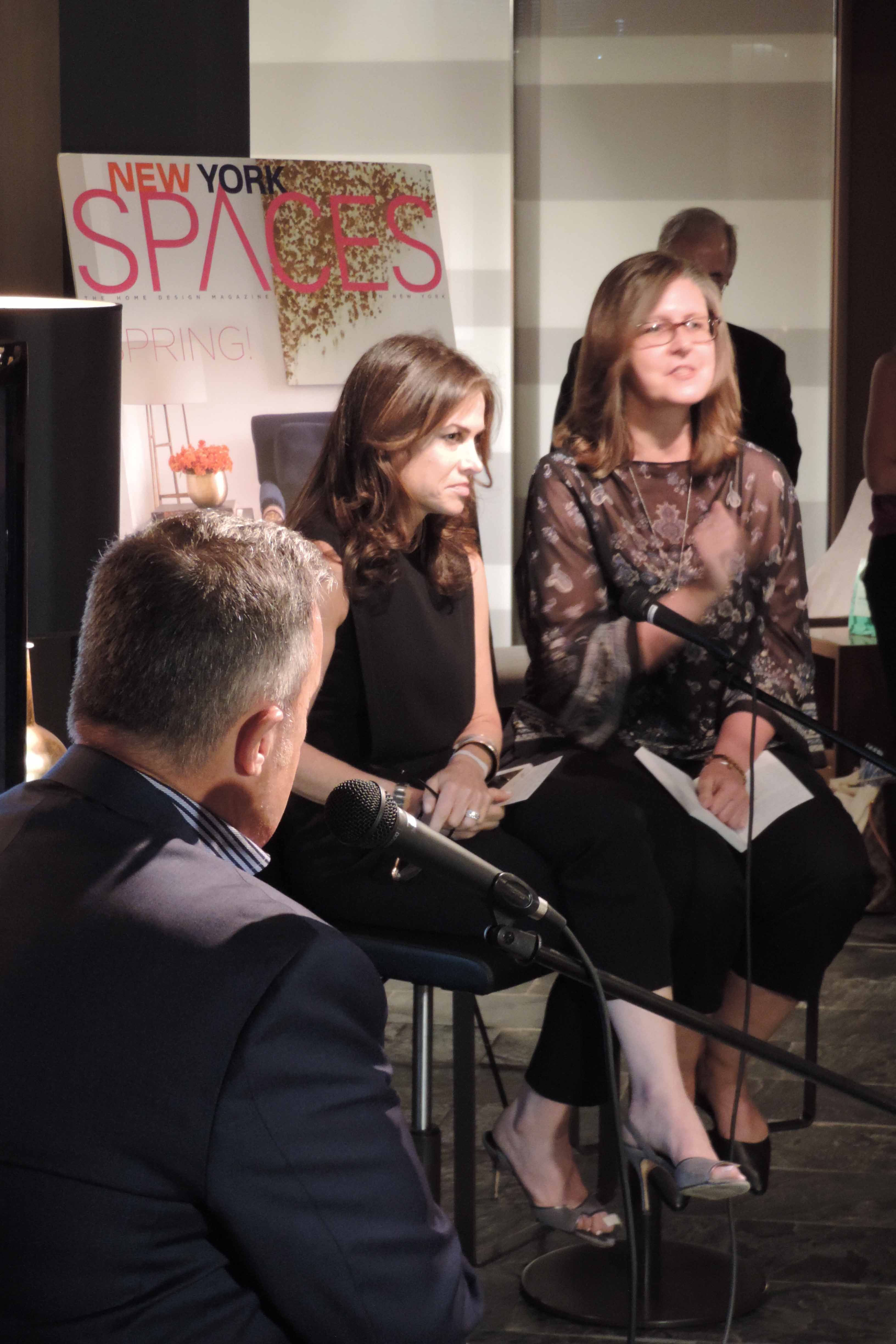 side view of New York Spaces Editorial Director, Jason Kontos with Publisher, Lisa Ben-Isvry and Managing Editor Deborah Martin – discuss "how to get published" at the Atelier Showroom.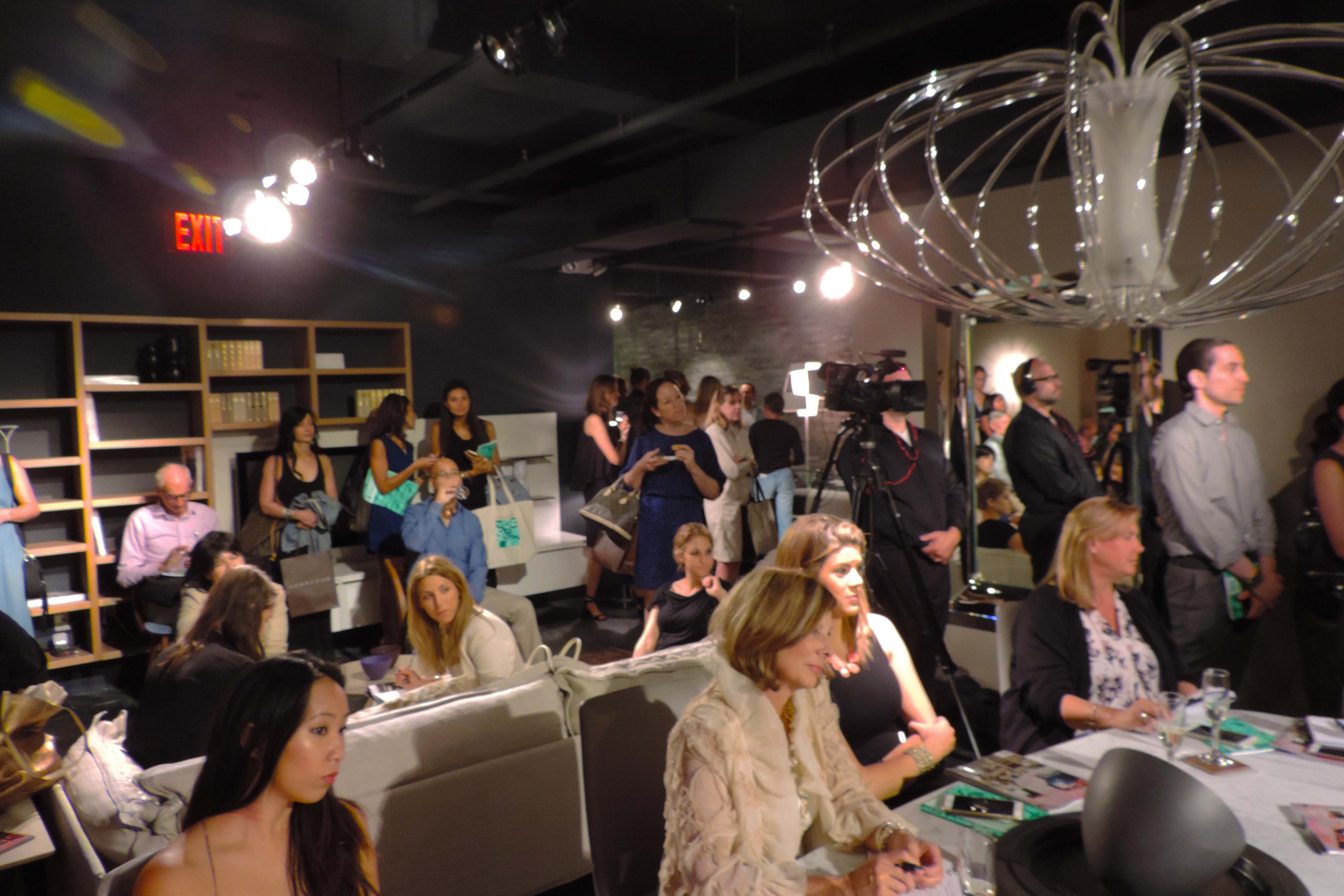 Atelier Showroom at #WNWN during the NY SPACES MAGAZINE discussion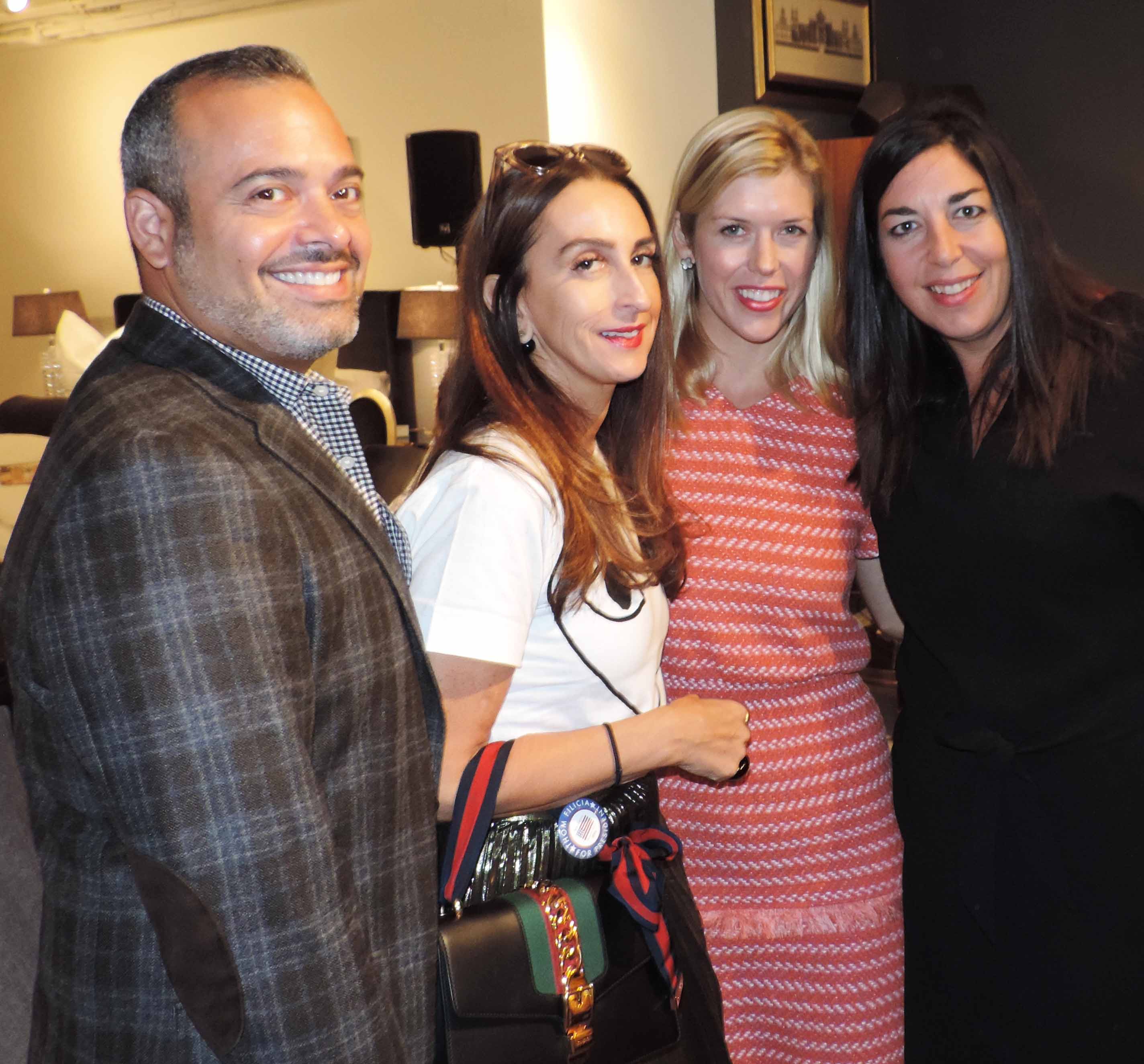 PR POWER – Raymond Schneider + Christina Juarez + Liza Morten + Elizabeth Blitzer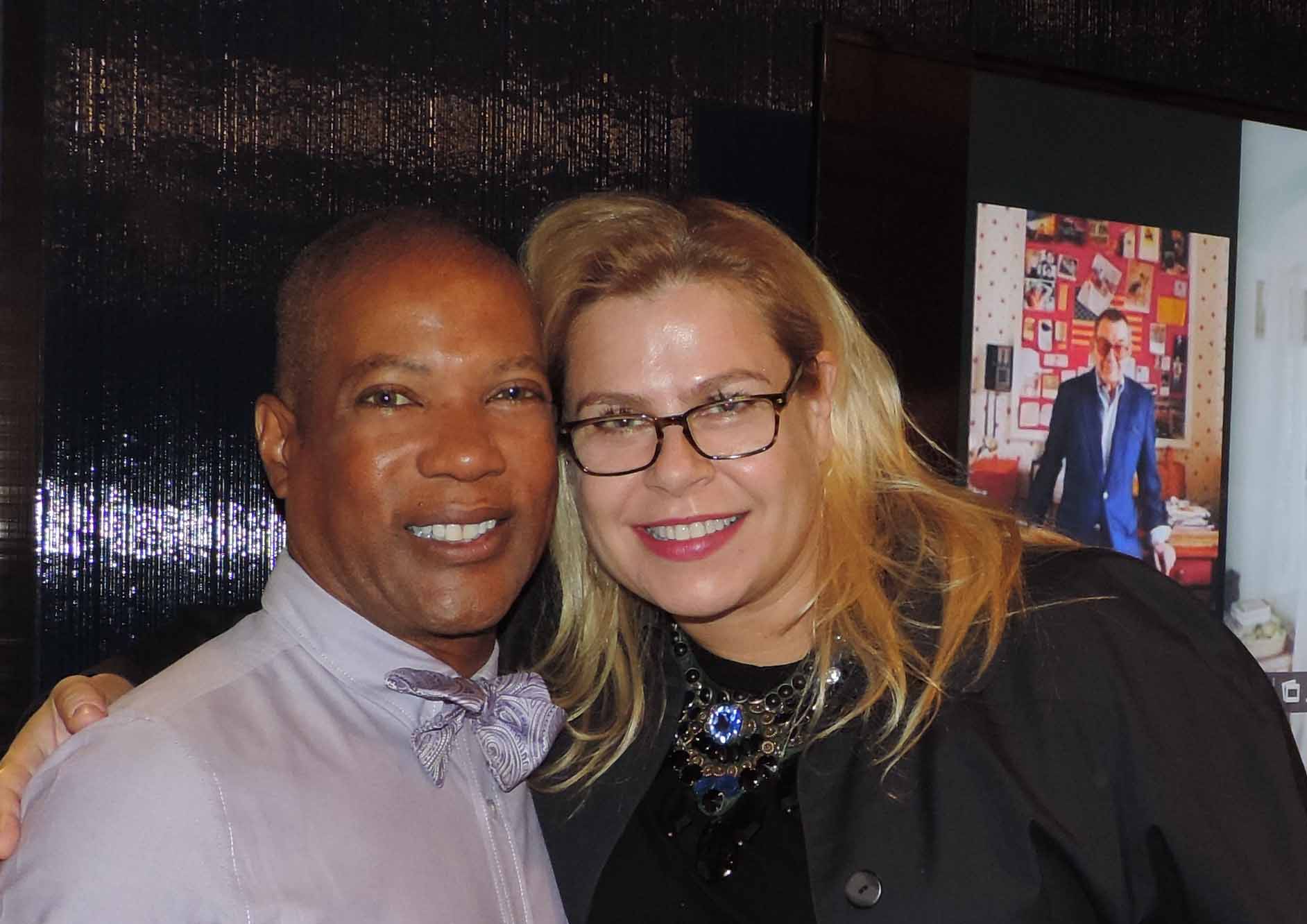 Rio Hamilton + design phenom Alexa Hampton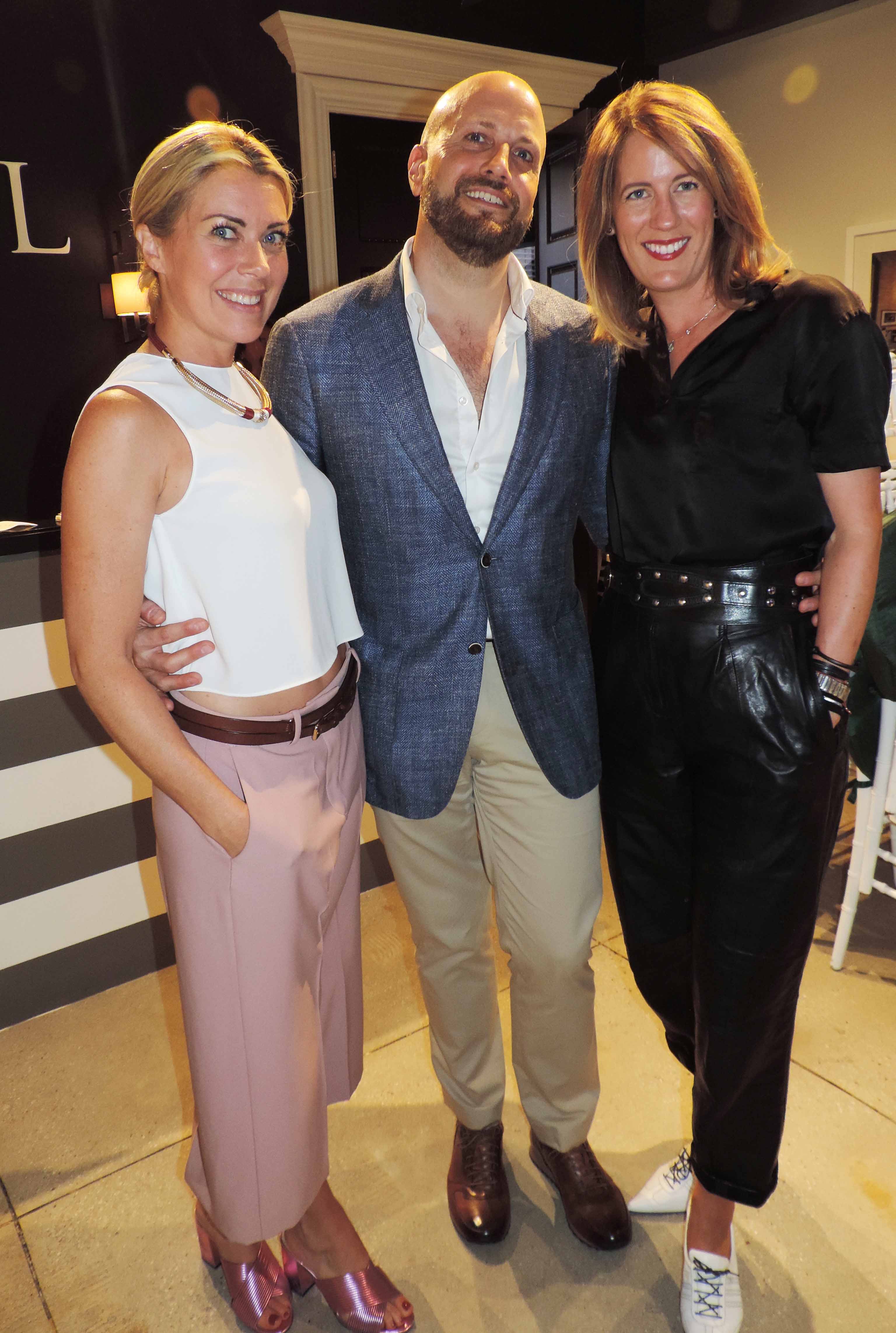 Terrific Trio = Tori Mellot (Traditional Home Magazine & Editor At Large) + Kevin Isbell (Kevin Isbell Interiors) + Stacy Kunstel (Dunes & Duchess)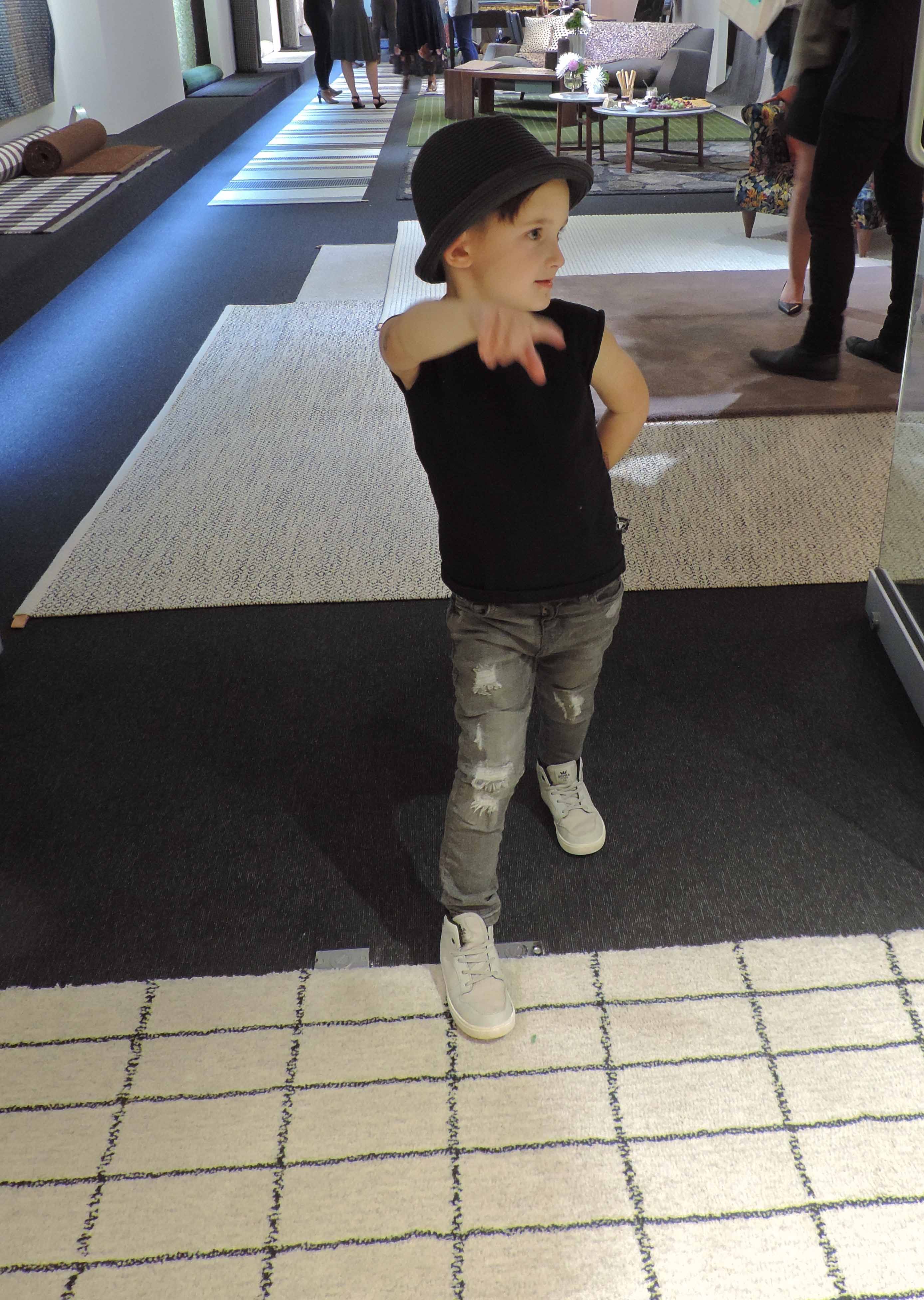 It doesn't get cooler than this – Designer, Michelle Gerson has one of the coolest kids in NYC – meet Finn.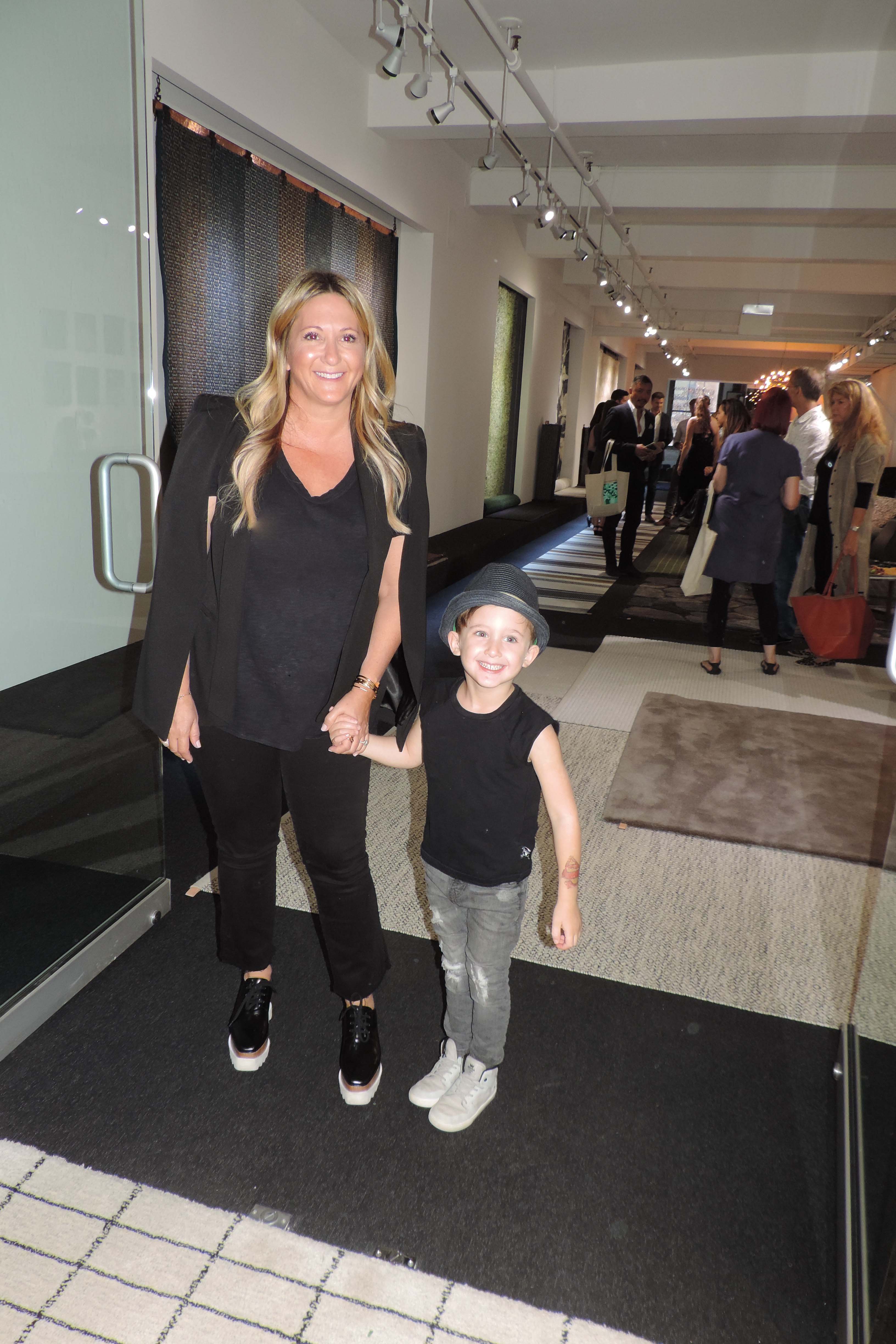 Michelle Gerson and Finn Wartell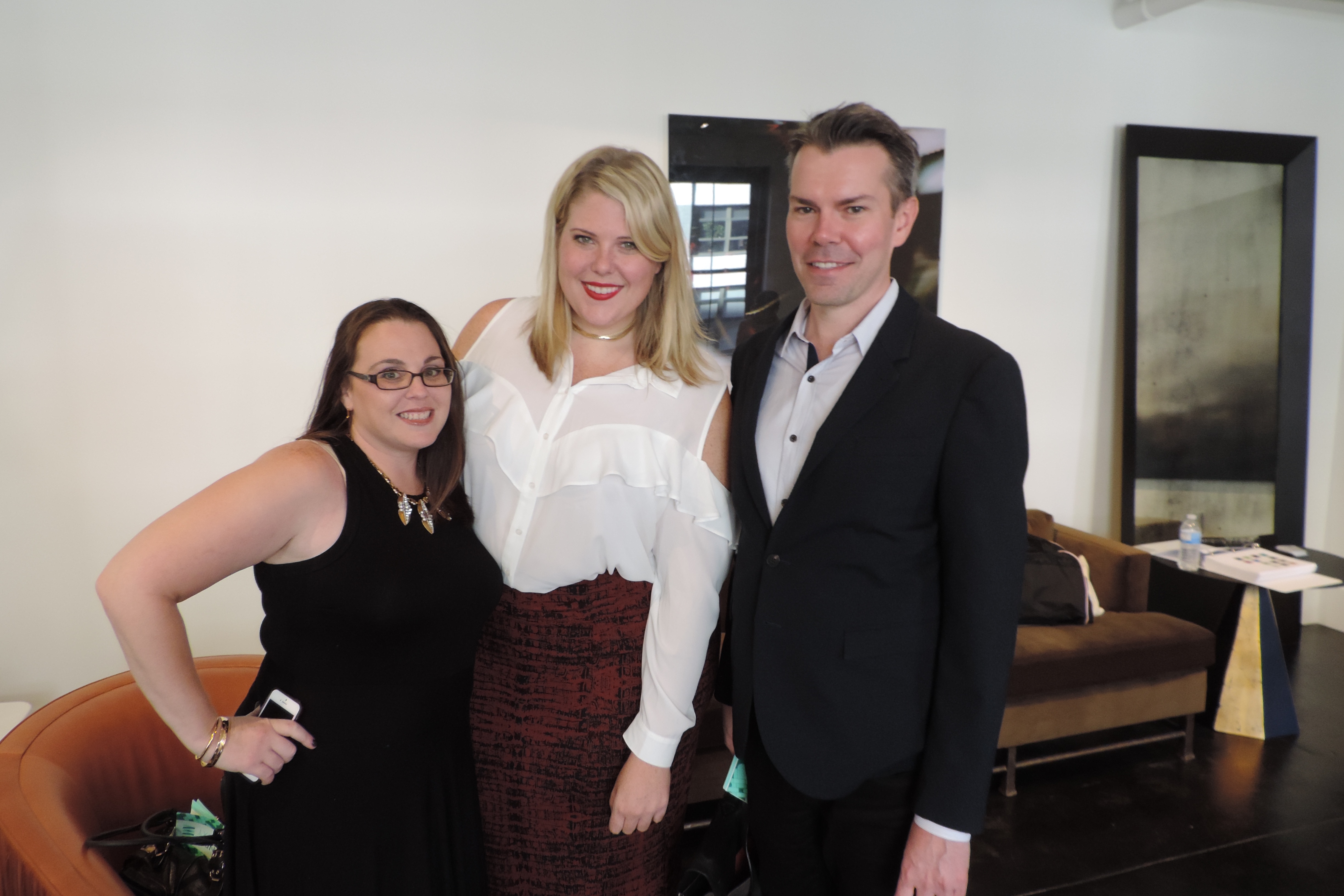 Michael McGraw and his new PR & Communications team Jackie Godsey and Lauren Elmore.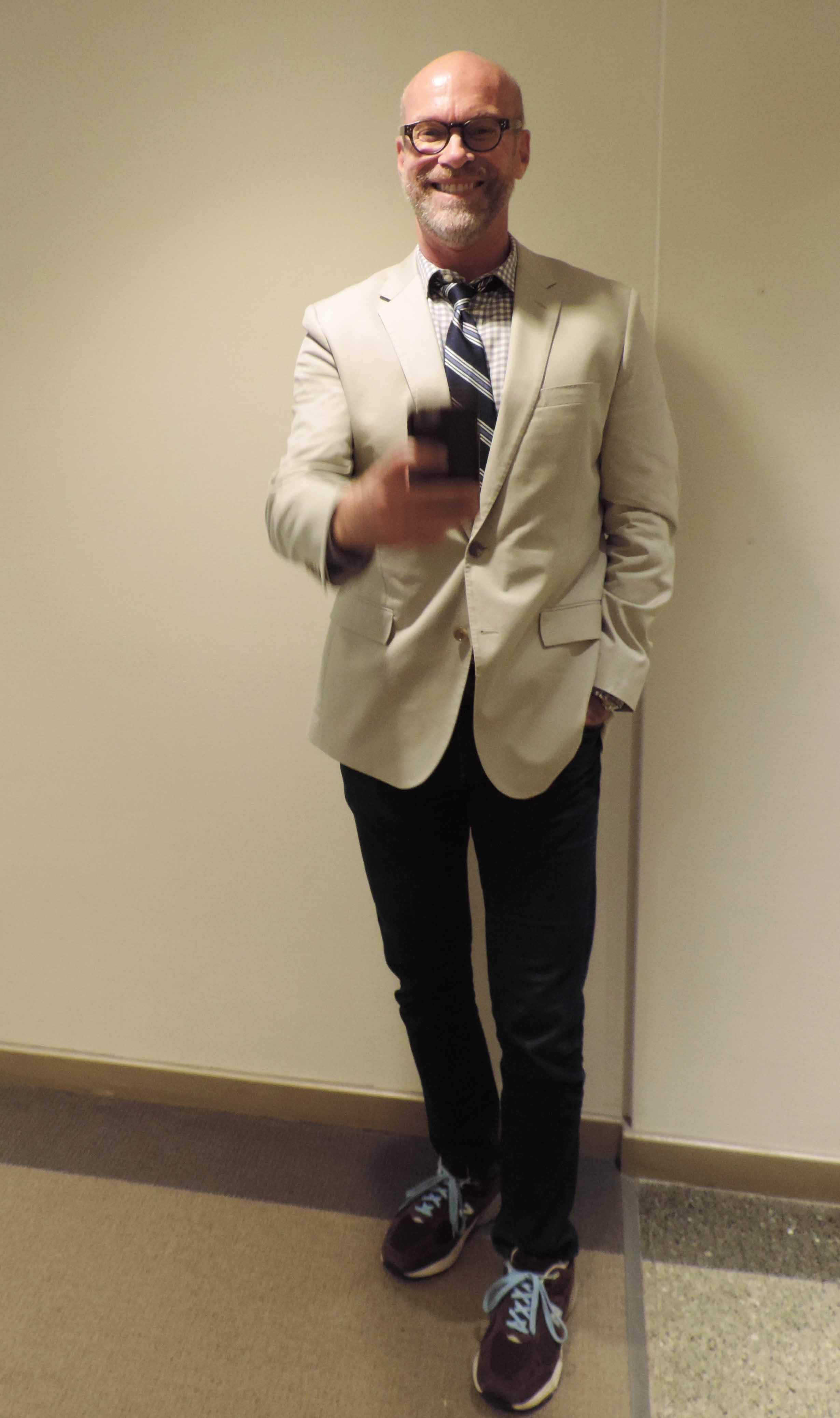 Interior Designer – Alan Tanksley