I'm loving my dinner party series. I've been hosting some wonderfully cozy dinners with some of the coolest movers and shakers in the design business. The latest soiree was prepared by a famous French chef, enjoyed by an array of award-winning designers and orchestrated at a beautiful new venue for luxury appliances. The idea came from AJ Madison when I found out Dacor had Boulud as an Ambassador, I requested a private dinner.
On June 6th, I arrived early at the new Dacor Theatre inside the A&D Building on East 58th Street. Renowned Chef Daniel Boulud was filming a commercial in the newly installed elaborate working kitchen. There were about 20 camera crew members mixed with various sous chefs, waiters and Dacar executives all whispering & tippy-toeing during the award-winning Chef's final closeup for the camera.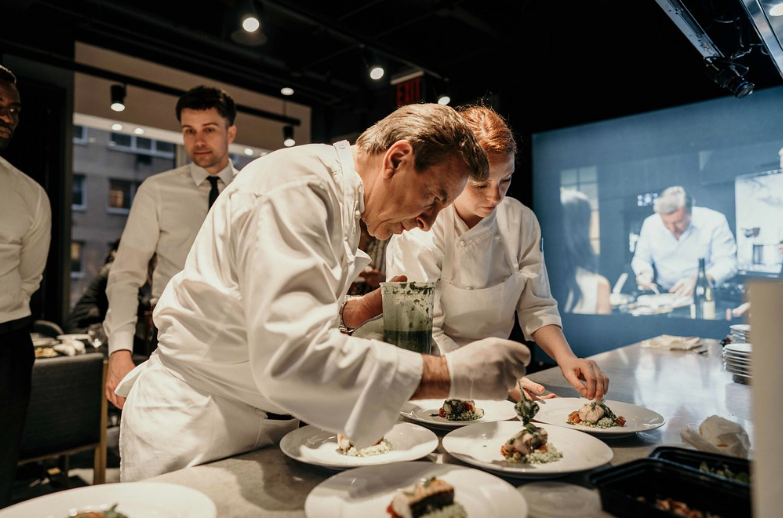 The moment the Director announced "it's a wrap" – the expansive showroom with movie theatre-like screens and Broadway stage lighting began looking more and more like a restaurant for fine dining. The waiters under the guidance of Chef Boulud began arranging the tables in tandem, then "L" shaped, then "H" shaped, then side-by-side, and finally separate but equal. After the musical tables – the Chef returned to his innovative Dacor Kitchen and added a touche finale to his delicious 5-course meal.
I must say those friendly folks at Dacor are pretty smart. They've teamed with Chef Boulud who has written a bevy of cookbooks and is the proprietor of many well-established restaurants around the world. He adds the perfect French twist to an American brand on a global rise.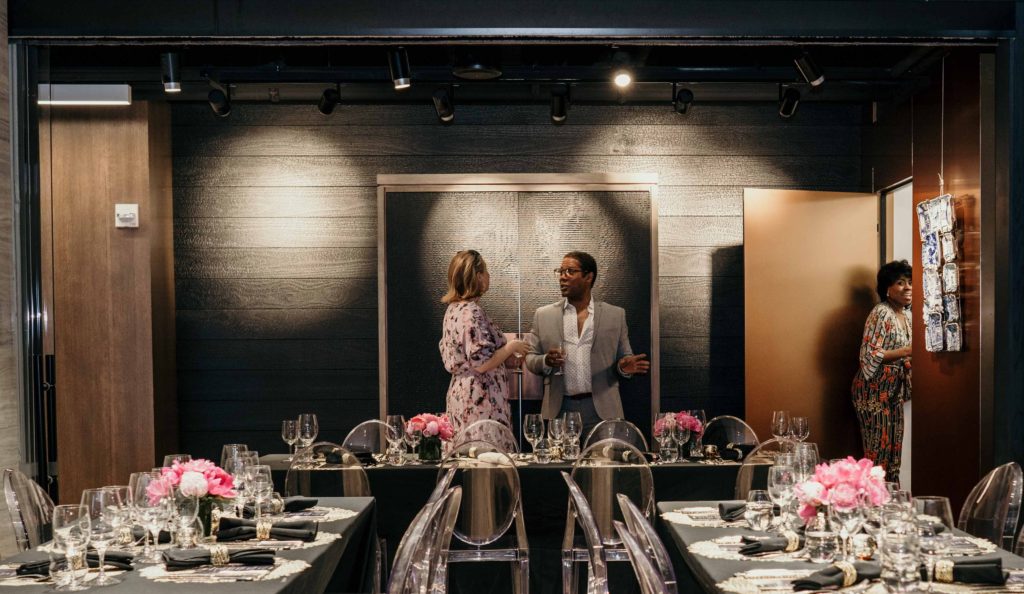 Dacor (/ˈdeɪkɔːr/ "day-core") is a California-based subsidiary of Samsung Electronics America that designs, manufactures and distributes kitchen appliances, specializing in the ultra-premium product tier, including wall ovens, ranges, cooktops, dishwashers, warming drawers, microwaves, ventilation hoods, refrigerators, wine dispensers, barbecue grills and beverage centers. Dacor continues to reinvent the kitchen with innovative new cooking and cooling experiences wrapped in beautiful and seductive design features.
Founded in 1965 by Stanley M. Joseph, the company had been continuously owned and operated by three generations of the Joseph family until it was sold to Samsung in August 2016.
The Midtown space is on point with wood planked walls and massive picture windows that offer views of bustling 3rd avenue and the sultry red brick building next door. The environment ignites creativity and explains the unique philosophy of why everyone gathers in a kitchen during parties at home. There are wall to wall appliances where you can open and close doors, twist and turn knobs, bend and pull levers . . . you can even refill your wine glass by pressing a button. Oh, now I have your attention …
Honestly, there is a smart looking Dacor Wine Station that dispenses wine right from the bottle. The smiles on the faces of those watching the demonstration of were enough to make me consider drinking my wine out of a glass again!
The stellar guest list included high end Designers, Young Huh, Alberto Villalobos, Jaime Walters, Jennifer Cohler Mason, Roric Tobin, Justin Shaulis, Britt & Damian from Studio DB, Katherine Rogulski designer for Christopher Peacock, Architect Sarah Bueller of CetraRuddy, Jeffrey White from EAU, Joe Louis of Poggenpohl, & Markus Weber and Sean Juneja Founders of Decor Aid.
Thank you Chef Boulud, AJ Madison and Dacor – your delicious dinner and the seductive ambiance made for a memorable evening. Photography by Iqra Shahbaz.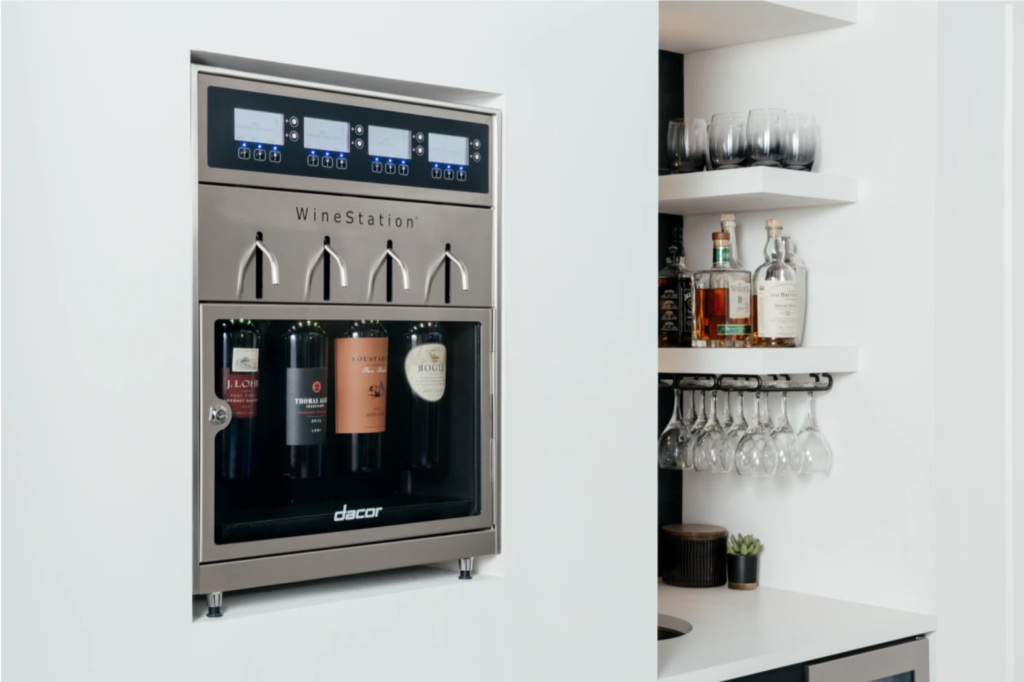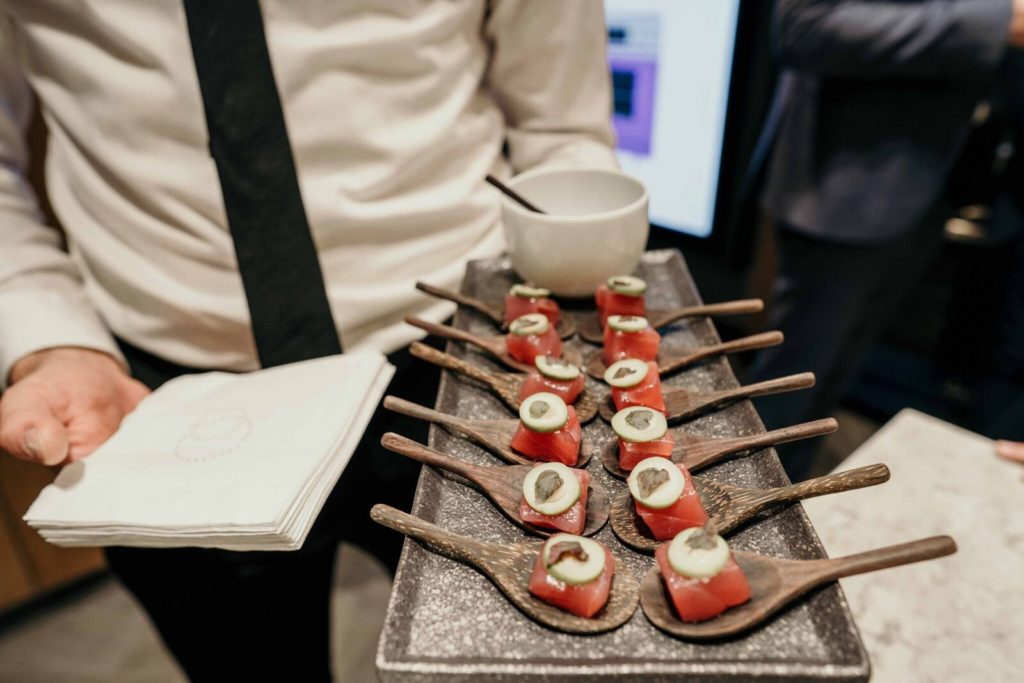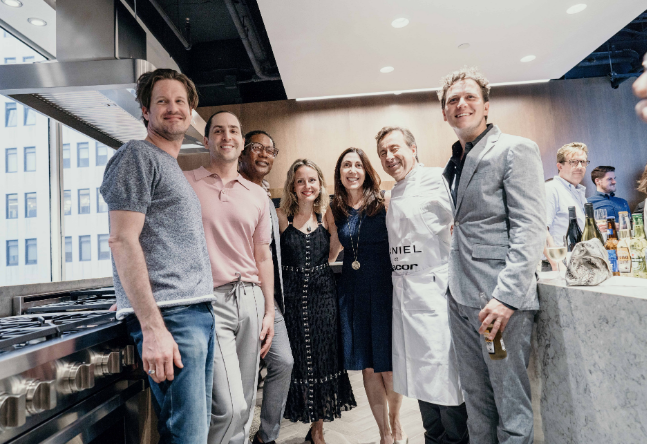 Justin Shaulis + Scott Kim + Jonni Clause + Randy Warner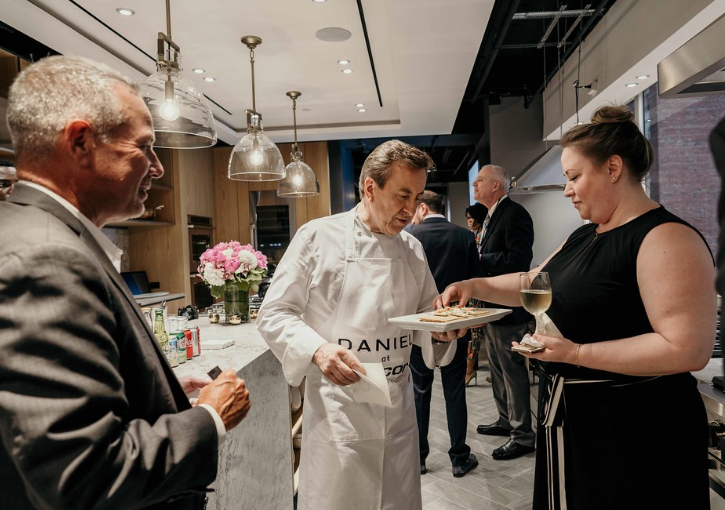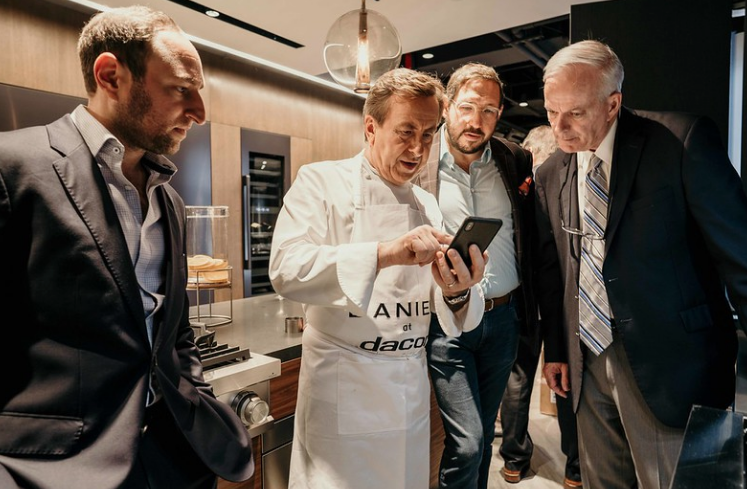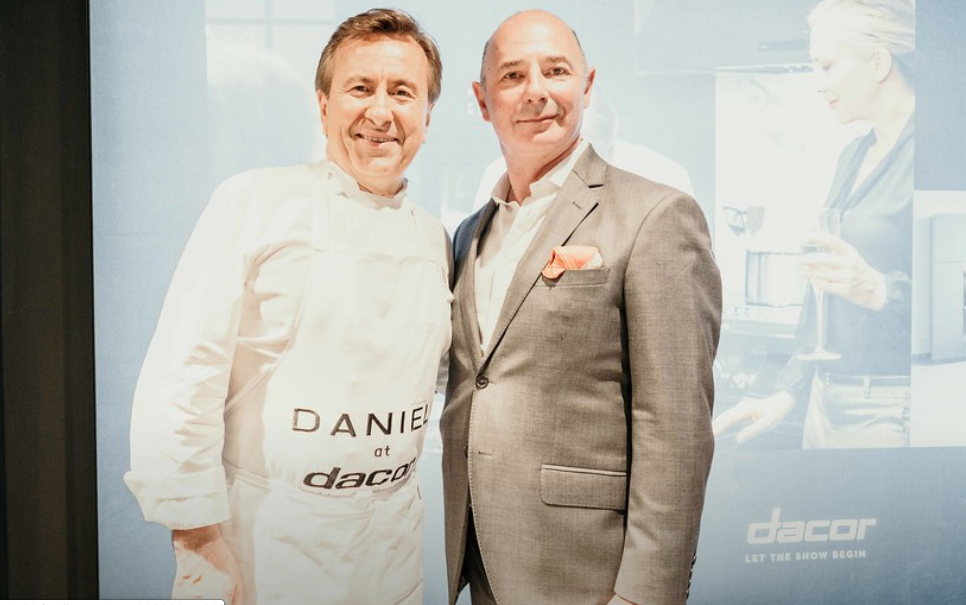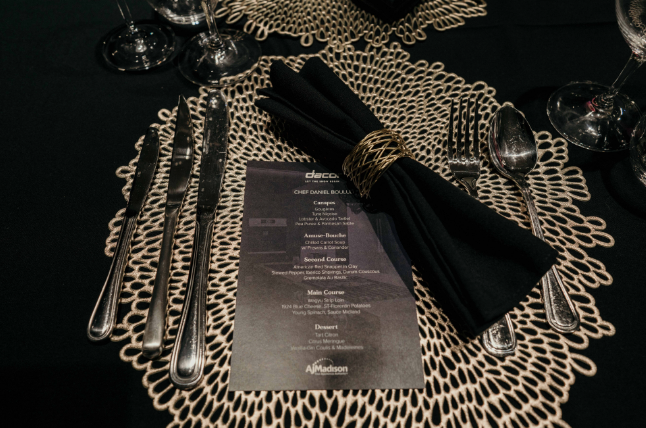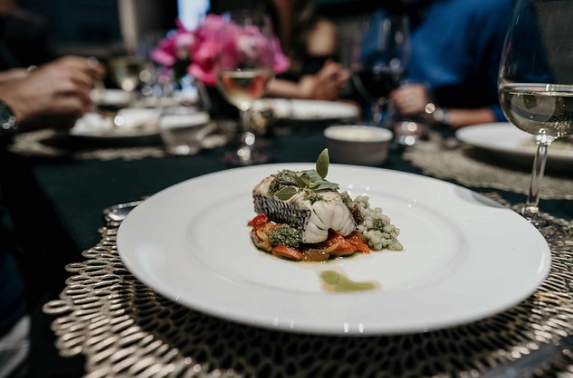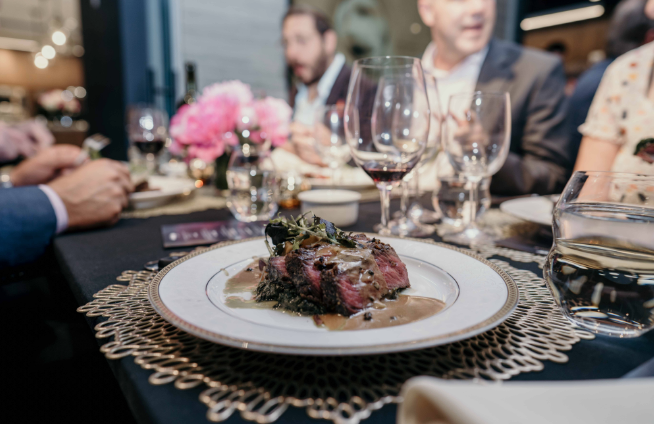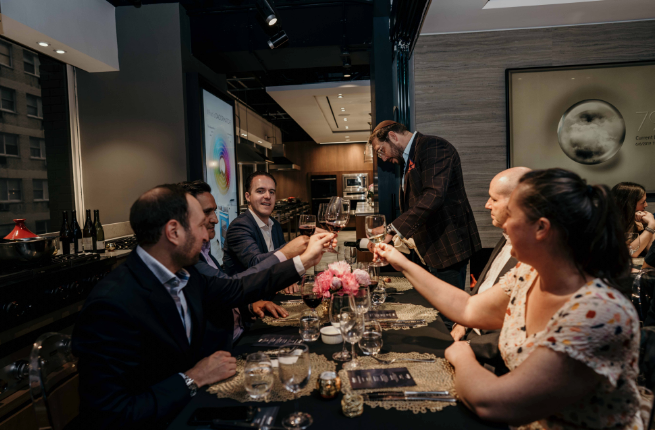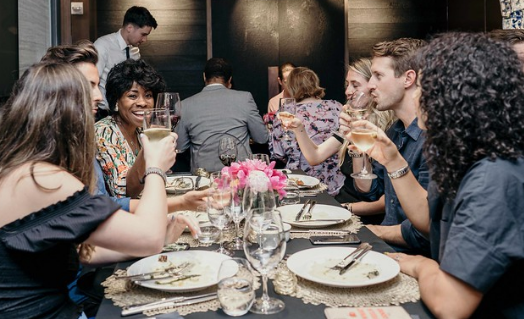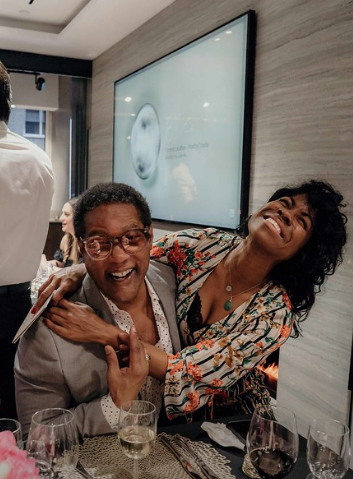 One of the highlights of planning and preparing for the deluxe dinner was co-hosting and partnering with the divine Rachelle Louis from AJ Madison.
Brooklyn based AJ Madison is the industry's foremost appliance authority. They pride themselves in offering an unrivaled selection of top rated home and kitchen appliances. Their expansive showroom appears to take up a whole city block and is stocked with a high-end assortment of leading brand name appliances. AJMadison.com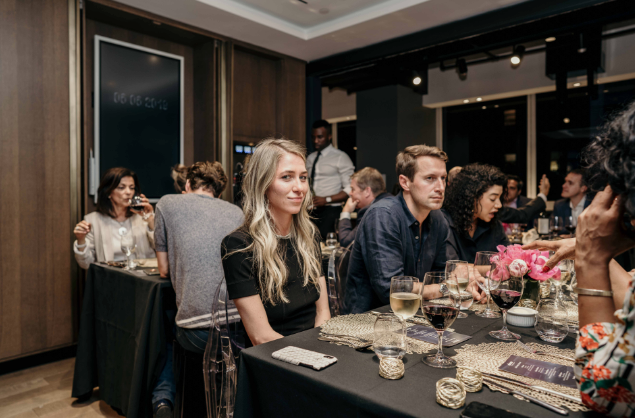 Young Huh + Alberto Villalobos

Britt and Damian Zunino