Founded in 1837 – Charles Lewis Tiffany helped define legendary jewelry design as we know it and established the diamond engagement ring as an enduring symbol of love.

For nearly four years, the Tiffany & Company flagship store on the corner of Fifth Avenue and East 57th Street was covered in scaffolding while it underwent a full-bore renovation. In the days before the reopening, set for April 28, a Tiffany executive vice president, Alexandre Arnault, and the company's chief executive, Anthony Ledru, monitored final preparations as they whispered to each other in French.
The renovation, which is the first holistic renovation of the store since it opened its doors in 1940, pays homage to the building's original structure. Its classic façade was simply refurbished, while its interior was completely reimagined.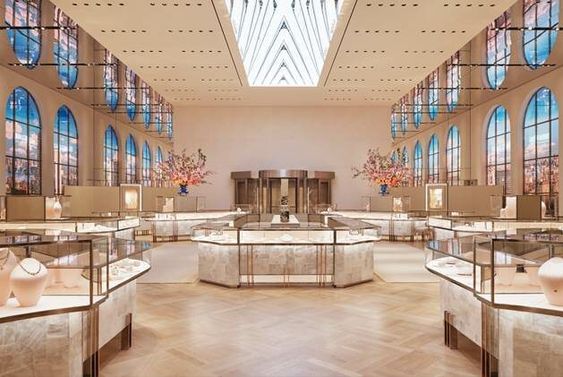 Upon entering the new store, clients will discover an expansive main floor of jewelry cases illuminated by an innovative take on a skylight that spans nearly the room's entire length. They will also be immersed in iconic New York City scenery through video walls that project views of Central Park and the Manhattan skyline when turned on and serve as mirrors when turned off.
At the heart of the store is a sculptural spiral staircase with undulating transparent balustrades adorned with rock crystal. Completing the space are nearly 40 artworks, including never-before-seen Tiffany-commissioned pieces, by renowned artists like Damien Hirst, Julian Schnabel, Rashid Johnson, Anna Weyant, and Daniel Arsham.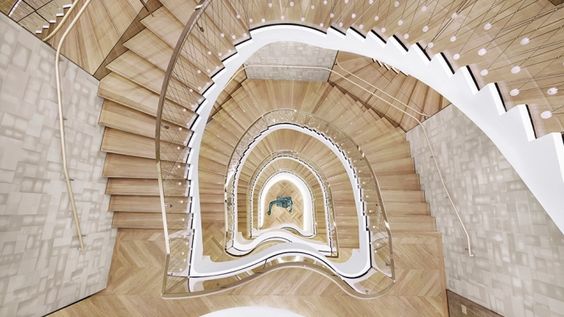 Beyond shopping, The Blue Box Cafe by Daniel Boulud offers a unique take on Tiffany's coveted dining experience, while dedicated museum and exhibition spaces on floors 8 and 9 will offer a rotation of compelling concepts and unique storytelling experiences.
"The reopening of the iconic Fifth Avenue Landmark is a major milestone for our House. Symbolic of a new era for Tiffany & Co., the Landmark is much more than a jewelry store— it is a cultural hub with an exquisite showcase of architecture and superior hospitality, as well as cutting-edge art and design. It sets a new bar for luxury retail on a global scale," said Anthony Ledru, president and chief executive officer, of Tiffany & Co.
To commemorate the reopening of the store, Tiffany & Co. is also set to debut a range of exclusive designs and one-of-a-kind creations, spanning fashion and home objects.
A lot has changed at Tiffany since the makeover began. Namely, the company's ownership. In 2021, after fraught negotiations, LVMH Moët Hennessy Louis Vuitton acquired Tiffany for about $16 billion. The sale was one of the largest deals ever in the luxury world, as well as LVMH's most significant American brand acquisition to date. The new flagship is scheduled to open to shoppers on Friday, a key debut for a store that accounted for 10% of Tiffany's global sales before it closed for renovation in 2019.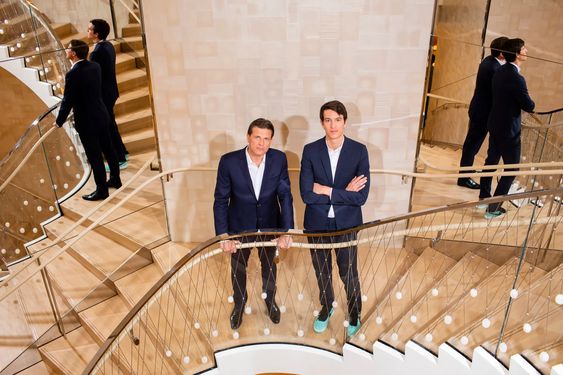 Anthony Ledru, the Tiffany CEO, and his fellow executive, Mr. Arnault, at the remodeled Tiffany store a week before the reopening. Landon Nordeman for The New York Times
In effect, the jewelry emporium became the property of Bernard Arnault, the 74-year-old founder, chairman and largest shareholder of LVMH, who recently dethroned Elon Musk as the world's richest person, according to the Bloomberg Billionaires Index. Over three decades, he has built a kingdom of more than 75 brands, including Dior, Celine, TAG Heuer, Bulgari, Fendi, Dom Pérignon and Sephora.
As construction workers toiled away on the ground floor last week, one of Mr. Arnault's five children, Alexandre Arnault, 30, stood near the spot where "Equals Pi," a painting by Jean-Michel Basquiat, would go. The painting, which features a shade of blue similar to Tiffany's signature color, appeared prominently in Tiffany's 2021 "About Love" ad campaign starring Jay-Z and Beyoncé.
"When people enter from Fifth Avenue, they will see the Basquiat," said Alexandre Arnault, who wore a Dior suit and Loro Piana sneakers. "It's an important part of the Tiffany brand now."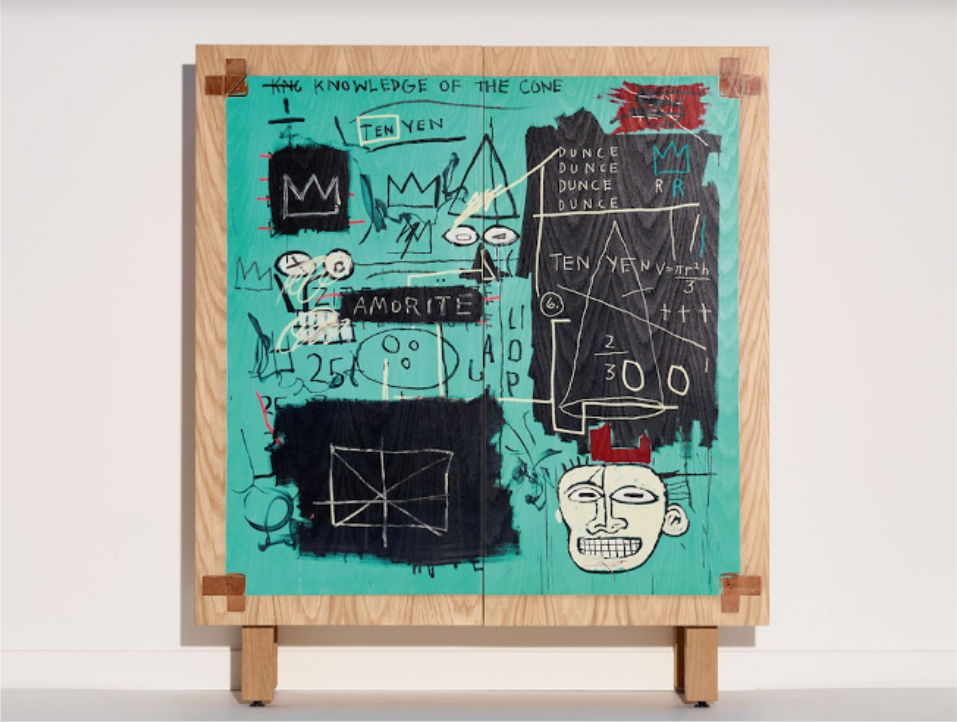 For nearly 40 years, Equals Pi (1982) remained in private hands and went mostly unseen from public view. Before appearing in the new Tiffany campaign in August, the painting—which features the artist's recognizable skulls and scrawled text and is set against a similar hue to Tiffany Blue—had been owned by two other jewelry moguls: Italian designers Alberto and Stefania Sabbadini, who purchased it in 1996 at a Sotheby's London auction for nearly $253,000. The painting now belongs to Bernard Arnault, the owner of Tiffany's parent company LVMH and one of the top art collectors in the world.