Amy Lynn Schwartzbard
PATTI CARPENTER
RYDHIMA BRAR
CHRISTY DAVIS
A huge floral fan, Christy Davis, paid homage to the historic B&B while modernizing the vibe, juxtaposing bouquets from Lee Jofa with a metallic geometric from Thibaut. A punchy cheetah print on the benches, dark painted trim and black marble bedside lamps provide bold contrast. Jane Dagmi / Designers Today
EVERICK BROWN and lovely LISA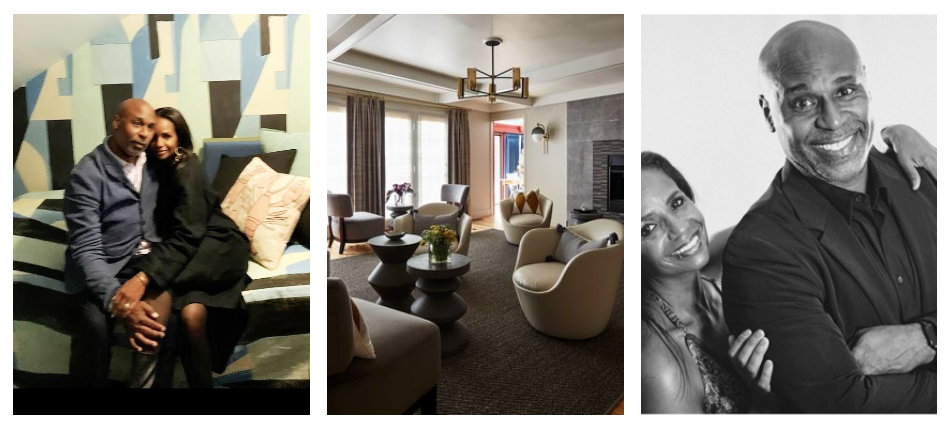 Astute and charismatic Everick Brown often teams with his lovely wife Lisa Walker-Brown on design projects. Brown says it was incredible to work with the contractors and 22 other designers tapped for the show house to transform this historic property together in such a short amount of time. He notes he has never been part of a show house with such camaraderie and that lends itself to the feel of the inn, where every space of the 18-room property is different yet somehow feels cohesive.
"Having spent a great deal of time in New England, we were inspired by the natural environment and the history of the town of Lenox, as well as the beautiful 'bones' of the Cornell Inn," Brown says of the inspiration behind "Katana," the name for the new reception and lobby area. "Our goal was to bring an updated-modern, Asian inspired look incorporating wallpaper, window treatments, unique tile and a warm grey color palette. I selected window treatments from The Shade Store to highlight and enhance the aesthetic of the room entirely–allowing in natural light while adding sophistication, elegance and drama to the space." Brown says his furniture selection was motivated by comfort, functionality, and intimate, small group seating, while incorporating the Kaleidoscope theme by having a Center Lobby seating area "in the round." Lauren Wicks VERANDA
NILE JOHNSON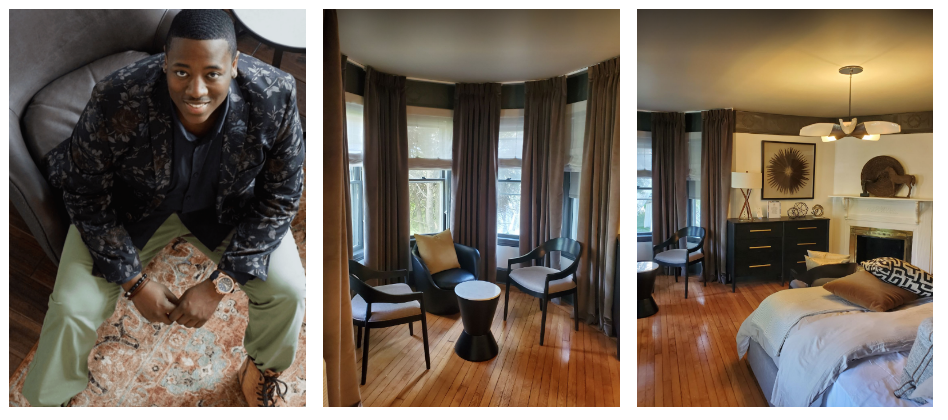 Texture reigns supreme in Nile Johnson's room, where a neutral palette keeps the focus on textural pillows, eye-catching photography, and the building's existing bones: "The Inn is a centuries old property, that has a lot of history. Rather than cover up that history, I wanted to enhance it, using it as the platform for my new design," explains Johnson. Hadley Keller House Beautiful
He's the strong, silent type along with being on the House Beautiful Advisory Board Member & African-American top 20 Interior Designer's List; Nile Johnson was born to design beautiful spaces. He is the Creative Director & Design Principal of Nile Johnson Interior Design. His work has been featured on HGTV as well as in national and local publications. He received a Bachelor of Science Degree in Interior Design from the Art Institute of Philadelphia, and a Master of Science degree in Interior Architecture, from Chatham University.
JOHANNA HOWARD
Johanna Howard's room makes the case for the enduring appeal of blue-and-white, with teal walls, chair, and a throw (from her eponymous company) giving an invigorating vibe and the Shade Store drapery adding just the right amount of pattern while keeping the space cool and contemporary. Hadley Keller / House Beautiful
RIO HAMILTON
"Diversity in design, lifestyle, and culture is long overdue in mainstream media. I'm happy to have been part of this groundbreaking design chapter and to be included with 22 outstanding Creatives from all over the country. Showhouses have launched design careers and increased visibility for so many talented people. The Kaleidoscope Project has launched its own important platform and at just the right time. " – Rio Hamilton / riohamilton.com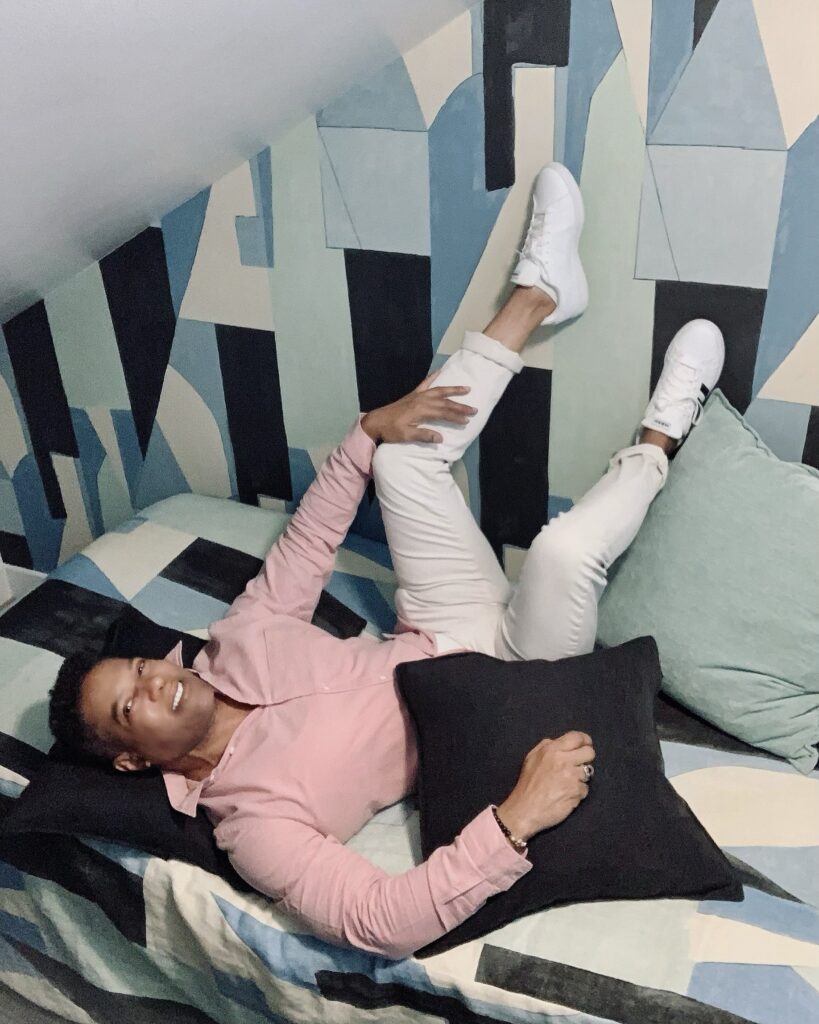 NIKKI NJERI KLUGH
Nikki was the friendly neighbor with a big smile. Her 'Cleopatra' suite was filled with chic, modern accessories. She is the principal designer and owner of NIKKI KLUGH DESIGN GROUP, INC, Nikki is also an award-winning interior designer and three-time best-selling author. Additionally, she is a media powerhouse whose interior design expertise and magnetic personality have led her to appear on BET, BET Her, NBC, San Diego Lifestyles, and The American Dream Show.
While many designers opted for serene hues, Klugh went bold in her guest suite, anchoring the space with dark walls (and matching window treatments) and then popping in furniture and accents in lighter hues. The artwork, table decor, and wallpaper's subtle pattern reflect an ocean influence without looking overly themed. Hadley Keller House Beautiful
SHAWNA UNDERWOOD

Shawna is so detailed oriented she made some of us double-check our game. Since founding her boutique, Washington, DC design firm, Shawna Underwood has been recognized for her clean and refined design approach. Shawna Underwood Interior Design is faithful to providing clients with quality and functional design that create timeless, bespoke interiors with turnkey service.
With professional experience designing and furnishing historic and nationally recognized buildings, Shawna decided to share her love for intricately crafted interiors and materials by opening her own design firm in 2010. Working with clients, mostly from referrals, emphasizes Shawna's ability to guide her clients through every step of the design process and capturing her clients needs and challenges with every detail handpicked and tailored for their space. As a LEED-Accredited Professional, Shawna also advocates designs that incorporate the technologies and strategies of sustainable design.
Shawna Underwood imagined the experience of the guests who would stay here as she planned her room's redesign. Keeping in mind a sense of place and the past, she let the Schumacher wallcovering nod to tradition, and then added a tailored twist with playful geometric pillows, a streamlined headboard, art hung off-center, and classic wool drapes. The closet, with its modern unembellished bench, has a Shaker quality. Designers Today / Jane Dagmi
AUSTIN GRAY DESIGN

Prime views of the inn's courtyard and its koi pond aren't the only stars of this suite, named for the late legend Cicely Tyson: Designers Denise Gordon, Tanya Lewis, and Marilyn Lavergne of the firm Austin Gray Design Group (AGDG) brought the colors of the winter Berkshires landscape into this garret-like space through a cool and sophisticated palette. The walls are in River Blue by Benjamin Moore, while the sloped ceiling features a pop of pattern thanks to wallpaper from Phillip Jeffries. The designers carefully curated furniture that brought to mind both femininity and strength—just like Tyson. AGDG relished not only the design process but also working with a cohort of accomplished BIPOC designers. "The opportunity to learn and benefit from their years of diverse experience in the industry throughout the entire project made the experience for us priceless!" the group told us. Sarah Choi / Elle Decor
THE CORNELL INN