A painting that British street artist Banksy purposely shredded during a previous auction sold recently to an anonymous Asian collector for $25.4 million at Sotheby's in London, setting a new record for the artist at auction.
Banksy famously pranked the art world three years ago when he hid a remote-controlled paper shredder in the gilt frame of one of his paintings so it could self-destruct right after Sotheby's London auctioned it off.
The shredder malfunctioned halfway through, leaving the bottom of the stenciled canvas dangling in crimped strips as collectors gasped and lined up for a closer glimpse. The artist soon went on social media and took credit for the stunt.
Now, the anonymous buyer of that $1.4 million work has had the last laugh—by reselling the ribboned work for 18 times as much. Sotheby's only expected it to sell for as much as $8 million, but at least nine bidders in the sale pushed its price even higher, with the director of Sotheby's private sales in Asia, Nick Wood, fielding the winning telephone bid. "I can't tell you how nervous I am to drop the gavel on this one," said auctioneer Oliver Barker at the moment, glancing at the work hanging behind him. Nothing followed but applause.
The result reveals how easily tastemakers today can turn a potential market liability into an art-world legend. Its resale was welcomed as a feat of theatrical recasting by collectors who have only now started filing back into auction houses after more than a year of bidding online because of the Covid-19 pandemic.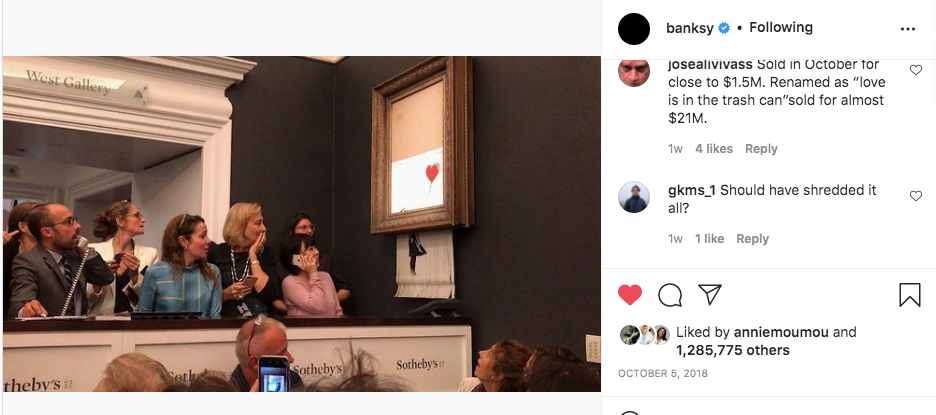 Banksy rose to fame two decades ago by using spray paint to stencil politically charged images on buildings all over England.
He said he first created the work that recently sold in 2006, calling it "Girl with Balloon." It depicts a young girl stretching her arm toward a heart-shaped balloon floating away. After the shredding incident, the artist said it should be deemed a new work and renamed it "Love is in the Bin.