As many of you know, I am part of several human rights coalitions filled with victims and families harmed, harassed, and bullied by Conservatorship and Guardianship professionals and their lawyers. None more famously than Pop Princess Britney Spears.
Britney has been under a conservatorship helmed by her father, Jamie Spears, since the singer's infamous breakdown 12 years ago, which resulted in hospitalization and rehab. Though the stigma surrounding Spears's mental health battles has followed the singer since 2007, her career never faltered. Marking an official comeback with her 2008 album, Circus, Britney continued to release albums, tour, star in a years-long Las Vegas residency, and launch business ventures including her lucrative perfume and namesake lingerie lines.
Despite multiple comebacks, however, Britney's longtime fans have vocalized their dissatisfaction in seeing the pop star continue to be under a conservatorship at 38 years old. Wholeheartedly convinced that the singer herself also wants to be free from the legal binding, fans launched the #FreeBritney movement, utilizing social media to bring awareness to the discrepancies surrounding the conservatorship.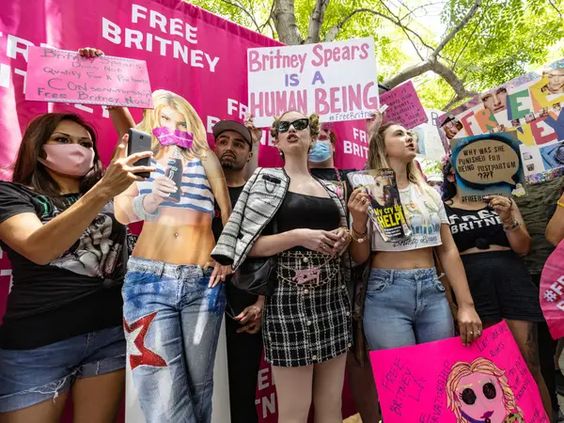 I personally had never heard of guardianship and conservatorship until my mother was fraudulently identified as being incapacitated. The unfortunate twist with my family's struggle is the court system stripped away her civil rights just like they've done with Britney Spears. #freebritney
I was contacted by Kevin Wu is one of the compassionate founders of the Free Britney Movement or #freebritney or britneylaw.army.
He asked if I would speak at the rally and share what happened in my mother's situation. He explained that other victimized family members would be telling their stories too. A few weeks later, I flew to LA to attend the rally and the #freebritney adventure was mind-blowing.

It was about 11:30 am and I had a Lyft car take me from the historic Millenium Biltmore Hotel to the landmarked Stanley Mosk Courthouse. Grand Street was already blocked off and that's a big deal in downtown Los Angeles mid-week. I found Kevin setting up the step-n-repeat 'FREE BRITNEY'. He pointed me in the direction of the more than 30 media platforms already set up ready to capture poignant moments, clever signage, and show-stopping + eye-fetching parade gear!! This Britney Law Army brings it!
By noon, the camera's got bigger as the crowd began to swell. The media area had doubled in size launching little mini-stages for TMZ and ACCESS Hollywood. Popcorned Planet and Christopher Melcher Esq. secured a prime spot and had some intriguing questions to ask about my experience with guardianship all the while maintaining a live feed inside the courtroom to update millions of followers.
At 12:30 pm the rally was off the hook, the Britney Army was set for battle. If asked, each originally clad fan can recite the law and debate it like a lawyer. The thin person in platform boots donning a Free Britney flag as a cape will tell you the missteps of Britney's conservatorship and how the pop princess has been robbed of her civil rights, then spin and dropkick before the commercial break. This Britney Army has educated themselves with facts, armed themselves with sass, and is poised to deliver an arsenal of verbal content that proves the injustice of conservatorship.
Six victims of less famous Conservatorship harassment cases began sharing their dramatic and chilling stories. The audience had now grown to a thousand yet everyone listened intently to each emotional story. The grace in which these passionate Britney Spears fans allowed normal, heartbroken human beings who have been traumatized by the unfair legal system to share the spotlight with their cultural icon was phenomenal. We were all honored to be there.
At about 2 pm the marching and chanting kicked off. Walking in unison with megaphones out, signage up while chanting loud and proud – "hey hey ho ho Conservatorship has got to go". This group was on a mission. The New York Times and Associated Press photogs were on the ground weaving in and out of the marching parade as the chants grew louder and international news helicopters floated above. It was unbelievable – if Britney Spears had been trapped in Rapunzel's tower, this army would have rescued her and planned her wedding to fiance Sam Asghari.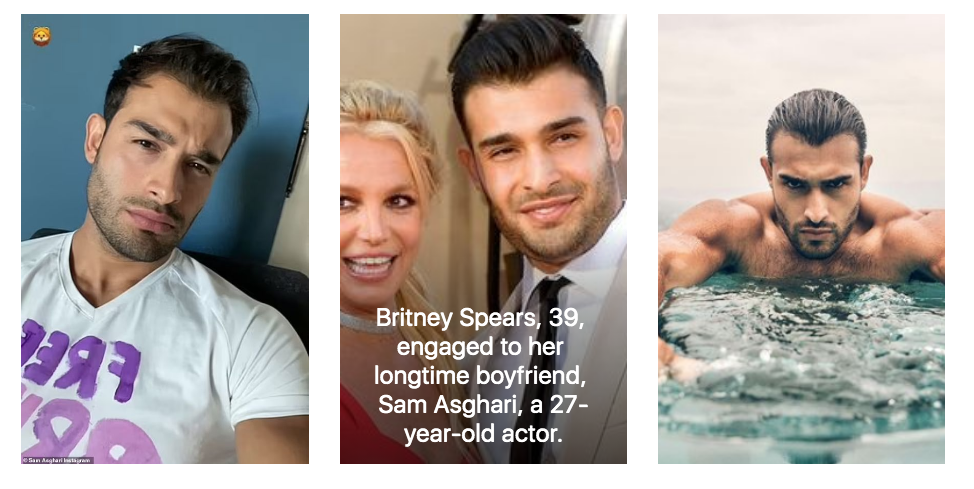 It must have been about 2:30 pm when smartphone alerts started buzzing. Whispers turned into roars as the huge crowd learned that Jamie Spears had been suspended from his position as Britney's Co-Conservator. The Britney Army had helped conquer the monster and the crowd went nuts while cars honked and passersby screamed 'free Britney'. Strangers hugging strangers, high fives, low fives while twerking without music, making out with hotties and that was just me. It was great to see so much joy and happiness for justice for Britney and positive next steps for hundreds of thousands of others still trapped in the system.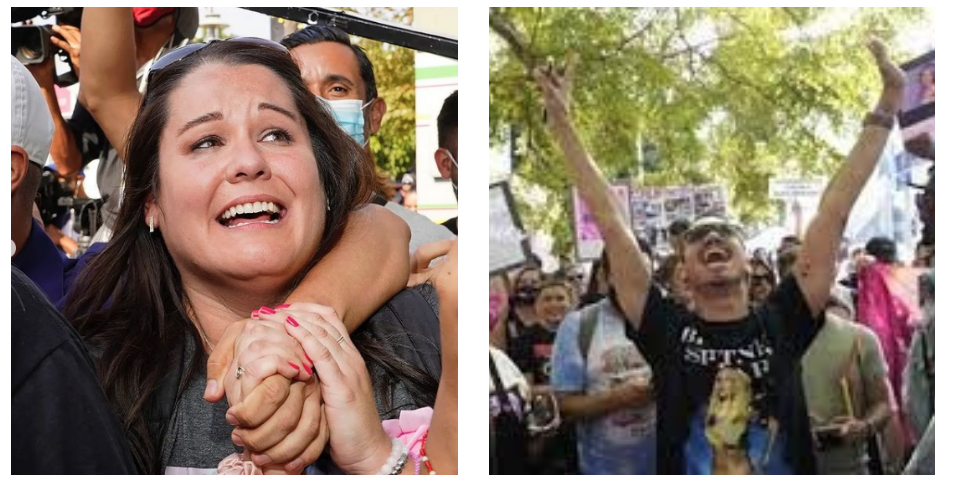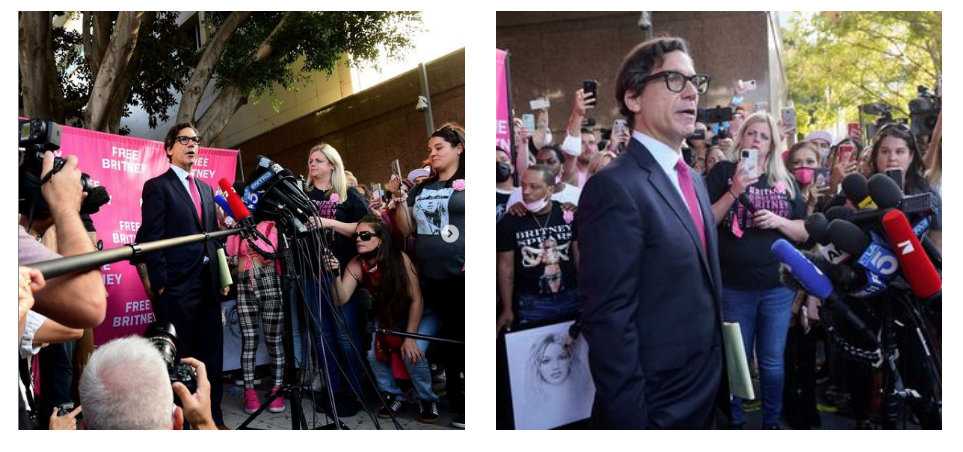 Britney Spear's lawyer Mathew Rosengart joined the crowd immediately after the hearing was adjourned. He expressed the unjust nature of conservatorship and that congress and legislators should closely examine and possibly eliminate this court-protected system of greed.
He is launching a probe into her father Jamie Spears after questions were raised over his conduct. There are plans for an extensive review of all documents before the next meeting on 12 November.
Britney Spears is not free (yet), but having her father suspended is a HUGE STEP FORWARD. Britney fought her conservatorship for many years but wasn't able to make progress because she was silenced and threatened by the very people controlling her. The public pressure created by the #FreeBritney movement has been instrumental in the progress in this case, and the organizers and fans of the #freebritney movement should be so proud.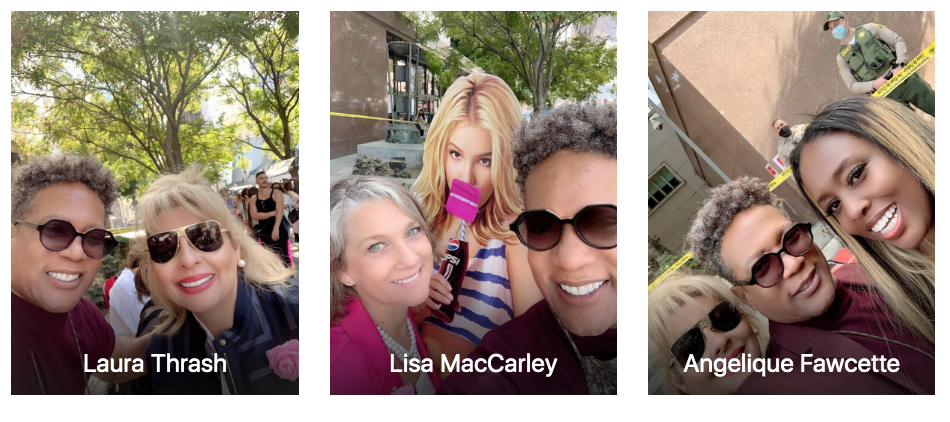 Megan Radford, Angelique Fawcette, Kevin Wu, Vanessa Velasquez, Leanne Simmons thank you for including me in your biggest rally to date. The organization and strategy were on point and have given me so many unforgettable human kindness moments.
If the media needs a circus to wake up the world about injustices and corruption in our democratic court system then the Free Britney Movement just delivered it on a pink platter with a rose on it. BRAVO