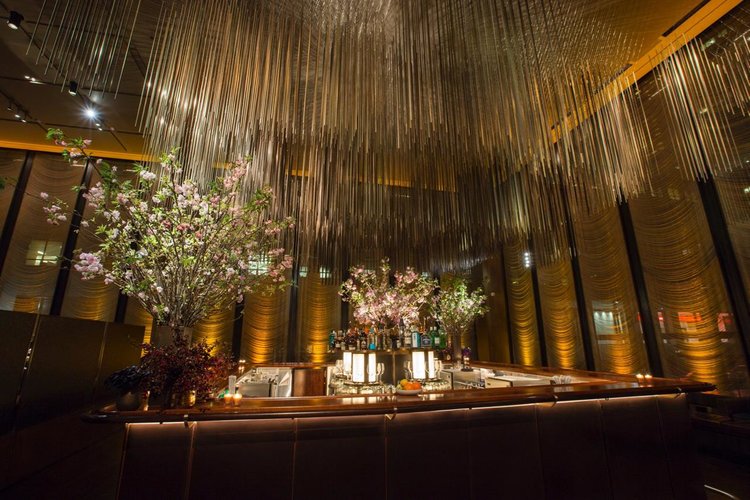 Calm, composed and effortlessly sophisticated, Benjamin Moore's Color of the Year 2019, Metropolitan AF-690, exudes glamour, beauty and balance.
Metropolitan AF-690 is supported by Color Trends 2019, a coordinating palette of 15 harmonious hues.
The 2019 Color of the Year was just announced by Montvale-based Benjamin Moore, a leading manufacturer in quality residential and commercial paint. They selected Metropolitan AF-690 to be popular for next year.
"Comforting, composed and effortlessly sophisticated, Metropolitan AF-690 exudes beauty and balance," says Ellen O'Neill, Benjamin Moore director of strategic design intelligence. "It's a color in the neutral spectrum that references a contemplative state of mind and design. Not arresting nor aggressive, this understated yet glamorous gray creates a soothing, impactful common ground."
The color — a light gray shade — was revealed at an exclusive event for interior designers, architects and influencers at the Seagram Building in New York City. So let me give you a little exposé about this chic event and its glamorous location.
Located in the heart of New York City, the Seagram Building was completed in 1958 and hailed as a modern architectural masterpiece. The 38-story building on Park Avenue was Mies Van der Rohe's first attempt at tall office building construction.
Restaurateurs Mario Carbone, Rich Torrisi and Jeff Zalaznick, along with partner and landlord Aby Rosen, are the masterminds behind the two adjoining, elegant, expansive, exclusive, expensive, eateries.
A classic American called The Grill, and a modern seafood eatery named the Pool. Named for the landmarked floating pool inside the restaurant. The interior was designed by Mies van der Rohe and Philip Johnson and was restored and updated by two legends – Annabelle Selldorf and William T. Georgis. I'm not sure if the above names were amongst the 500+ guests at Benjamin Moore color of the year announcement (certainly Mies and Philip were not), but I spied so many emerging Designers and legendary Creatives during my hour-long whirlwind, I wanted to share my spin.
Once we checked bags at the street level and walked upstairs emerging into a grand ballroom-like atmosphere – I immediately started recognizing familiar faces. There was Robert Rufino (interiors editor at Elle Decor) still holding the book from his delightful panel discussion on Illustrator, Jeremiah Goodman earlier that day at the JAB showroom in the D&D Building. Charles Pavarini (interior designer) in deep conversation with Bonnie Steves. I took a 'selfie' with Liz Foster (scent expert), Libby Langdon(Interior Designer TV personality), Kim Radovich (Interior Designer) and the lovely Cathy Hobbs (Interior Designer TV personality) playfully photobombed us.
I said hello to Houston based Branding man Lorenzo Marquez and the lovely ladies from Luxe Magazine. As we made our way through the crowd and to the nearest bar – I lost my date – Instagram Star and Interior Designer Kate Rumson. I waved across the room to Patrick Hamilton (Interior Designer Writer) + Martin Kesselman (Colour Expert) + Jamie Drake (iconic Interior Designer) + Kelly Sinatra (Marketing PR for Benjamin Moore) Chad James + Erik Perez + Lea Boodro + Byron Codero + Dawn Roberson (newly appointed head of DIFFA), my waving arm was exhausted – as was my cocktail arm – I had spun my last spin.
Shortly after the 1-minute video countdown which announced the new color. I spied Tori Mellott (BOH Influencer) on the mezzanine level conducting on-camera interviews and reactions to the announcement of the color on trend for 2019. Metropolitan AF-690 great night – great party – great color