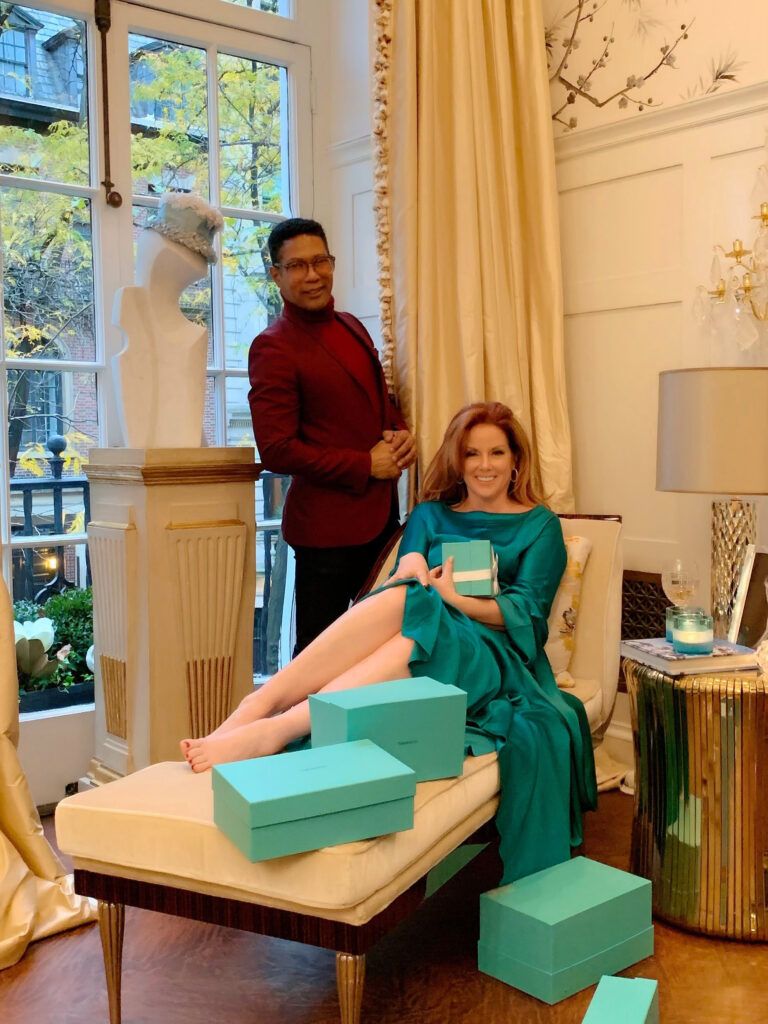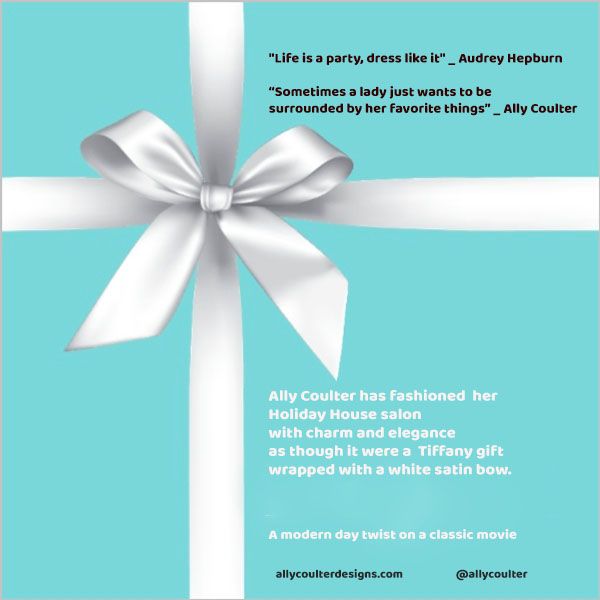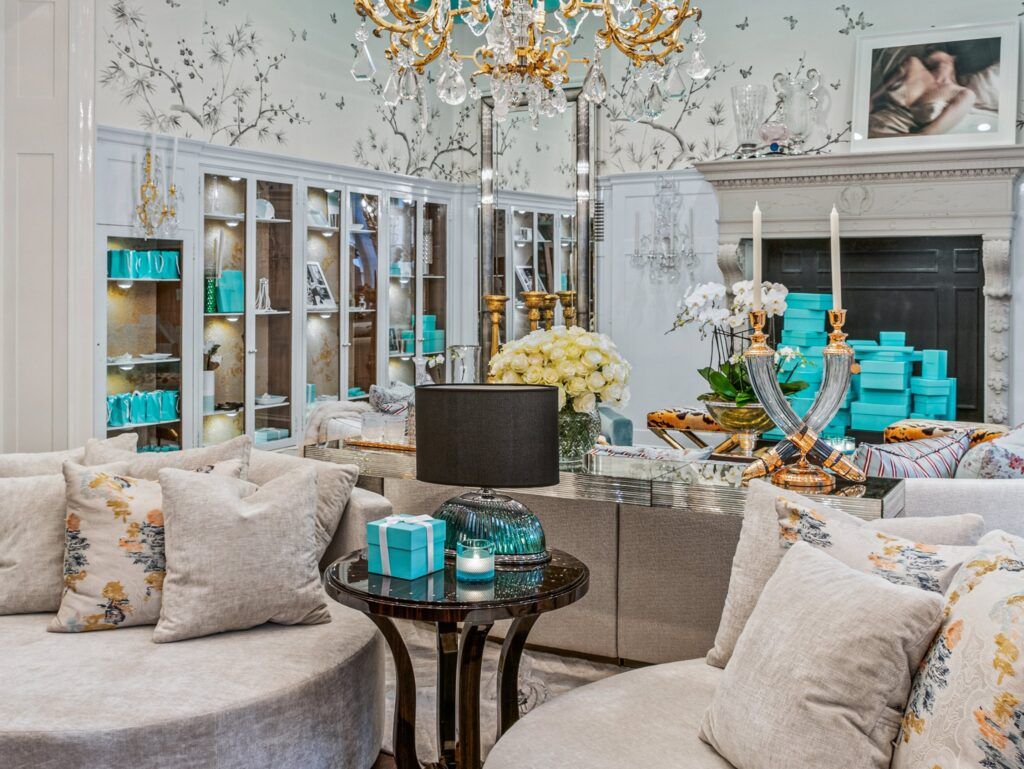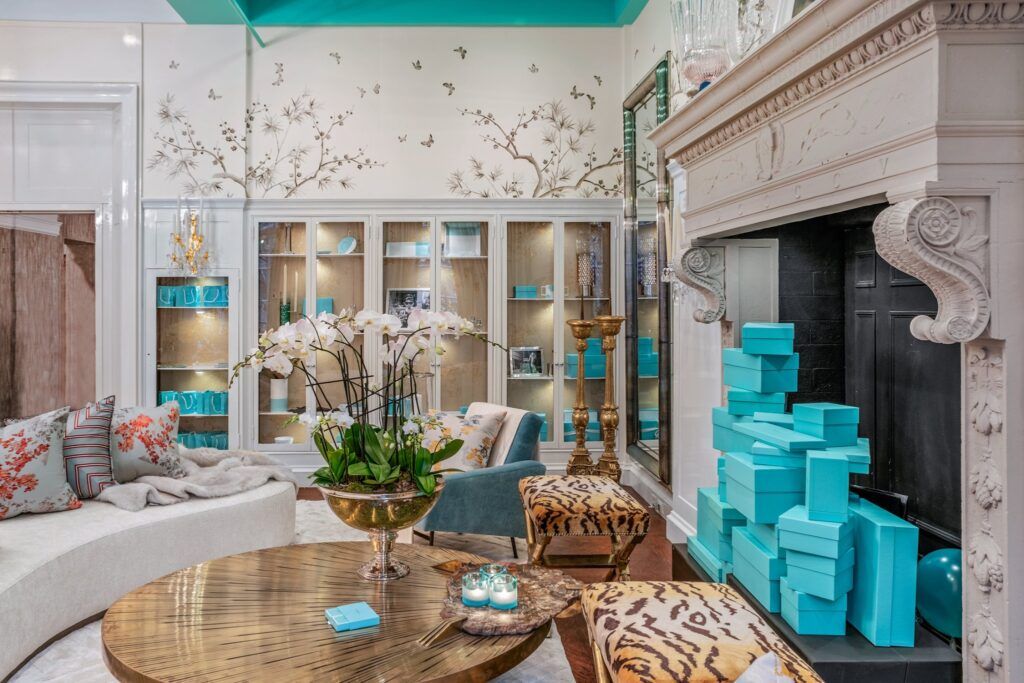 NEW YORK — French luxury group LVMH has raised its bid to acquire US jewelers Tiffany for over $1 billion, two sources close to the matter told the PRESS on Wednesday.
LVMH, the owner of Louis Vuitton, Dior and Moet & Chandon increased its bid for the storied New York-based company to around $130 per share from $120 per share, the sources said.
The move lifts the overall value for Tiffany to around $16 billion from $14.5 billion. Neither LVMH nor Tiffany immediately responded to a request for comment.
I wanted to learn more so I stopped by jet-set Interior Designer Ally Coulter's new Tiffany inspired room for her comments about the potential buy out. Coulter has recently reimagined the vast second-floor salon at this year's Holiday House Design Show to incorporate a Tiffany & Co. theme with an iconic robin's egg blue hue on the ceiling. Who better to discuss an international fashion buy-out with . . .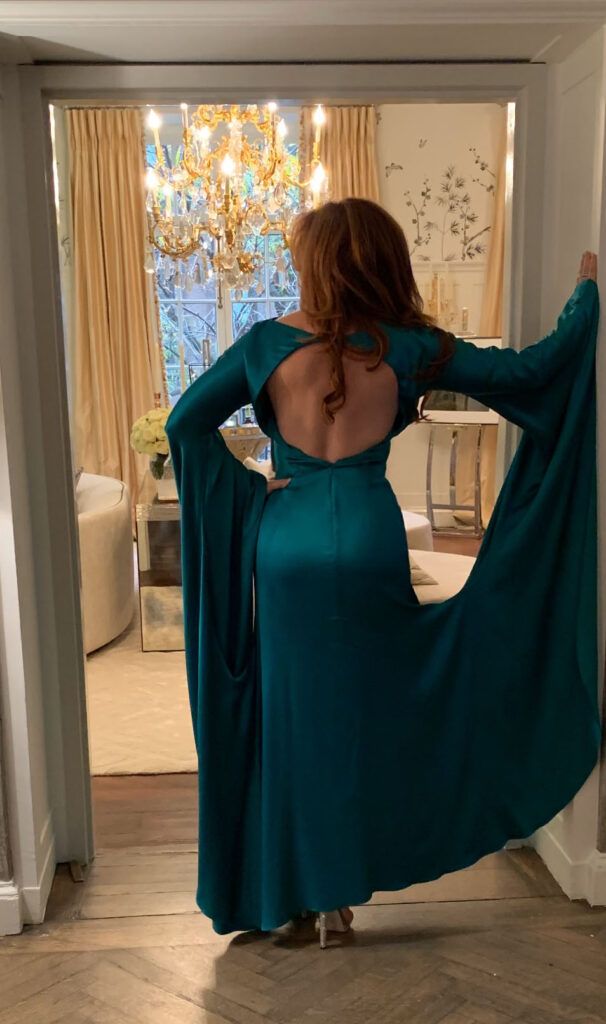 She shied away from commenting on anything related to LVMH. I learned that Ms Coulter is an Ambassador for fashion legend Jimmy Choo and has accessorized her Salon with a glittering array of Jimmy Choo accessories. And remember that Jimmy Choo is owned by Michael Kors because I mentioned this to you about it back in 2017. HERE.
It was hard to get a straight forward answer from Ms. Coulter regarding anything LVMH related – as she continued to repeat the phrase "Choo me" while she twirled through her dazzling lady lounge filled with curvacious oversized modern Italian Luxury Design furniture. She seemed hypnotized by the twinkling gold French chandeliers and lighting discovered by antique aficionado David Duncan.
During our visit, Ms Coulter answered several phone calls as she sat on top of a custom John Lyle desk with a bold black and white stone top. Not that I was eavesdropping – but I'm almost positive one call came from billionaire Bernard Arnault, who has sought to acquire Tiffany as a means to boost LVMH's presence in the US market.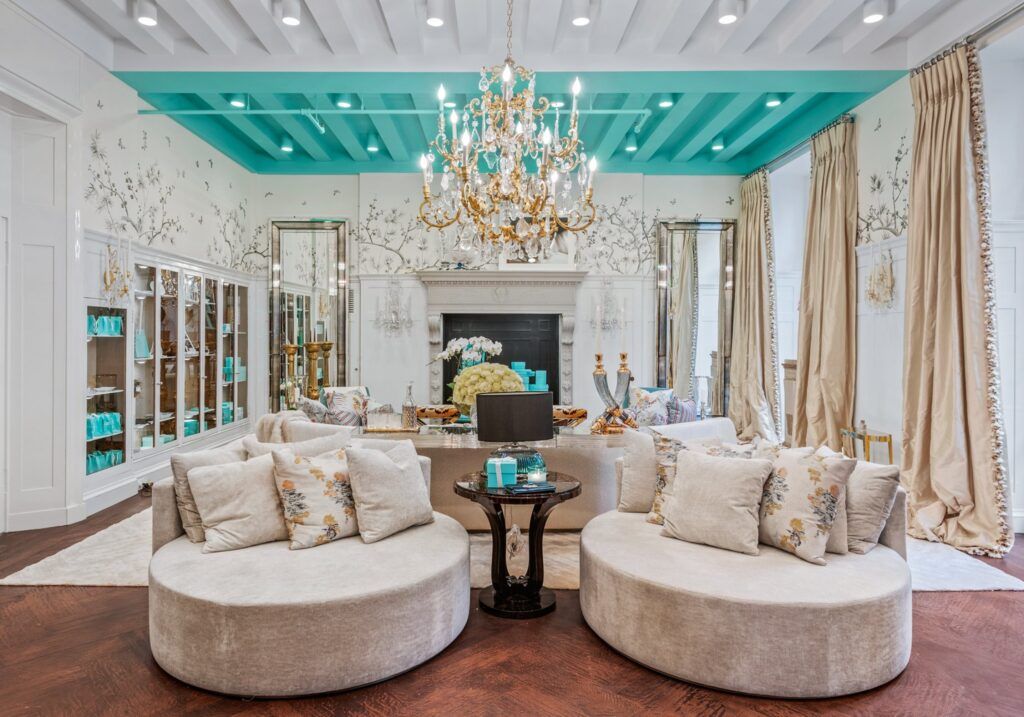 She responded with a dry unimpressed tone – "I'm very busy today Bernard – let's meet for a croissant in front of Tiffany's tomorrow morning." As she dismissed the call -her iPhone slipped from her freshly manicured hands and landed softly on the plush ecru silk Stark carpet. Everyone knows phones are like infants, the moment you put them down, they start crying er ringing. Seconds later, her phone began to chime.
Well, 4-5-6 chimes later as Ms. Coulter sat perched on her desk 'diva style' while I was comfortably seated a short distance away on those big round sofa poufs covered with stylish Dedar pillows. #yesplease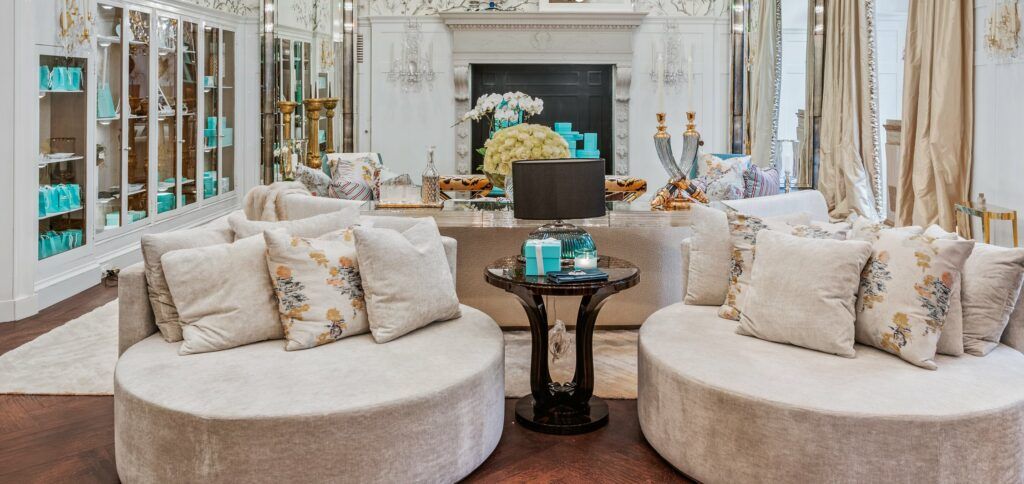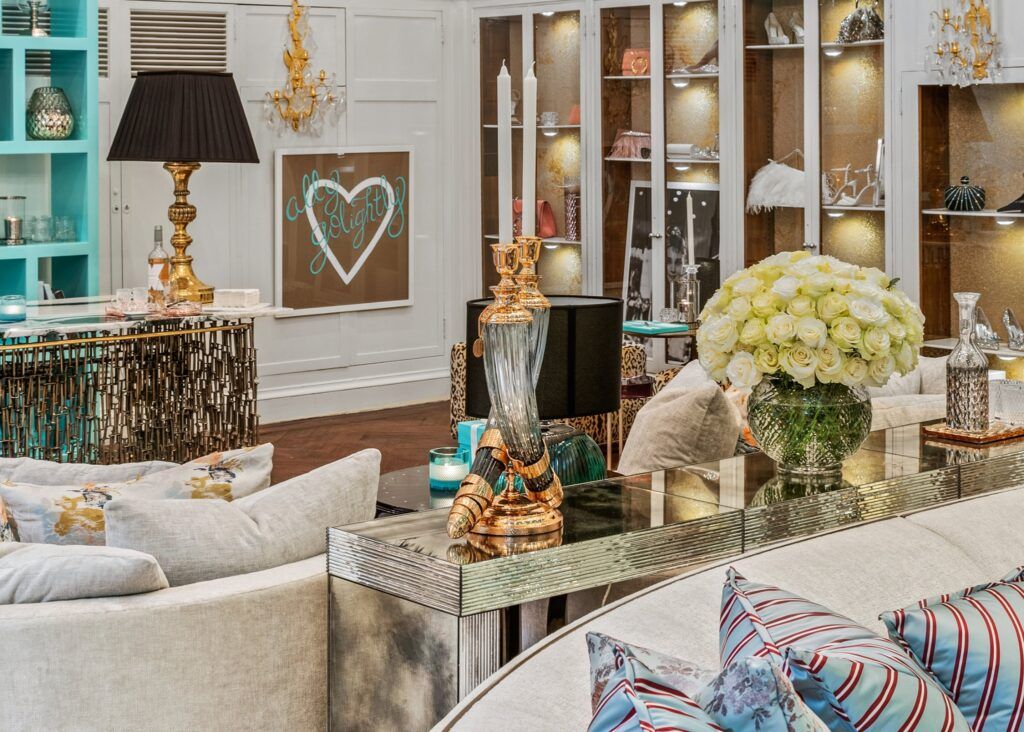 If I had made an effort to reach for the phone, it would have been the gentlemanly thing to do – but, alas I am a diva too, so the chimes rang out as we continued our discombobulated conversation.
She pointed to a beautiful crystal vase with roses and said, "The Waterford vase is a gift from my mother" – "I always like to have it close to me." When I turned around to catch a glimpse of the vase and then back around to ask a follow-up question, she was standing on the desk.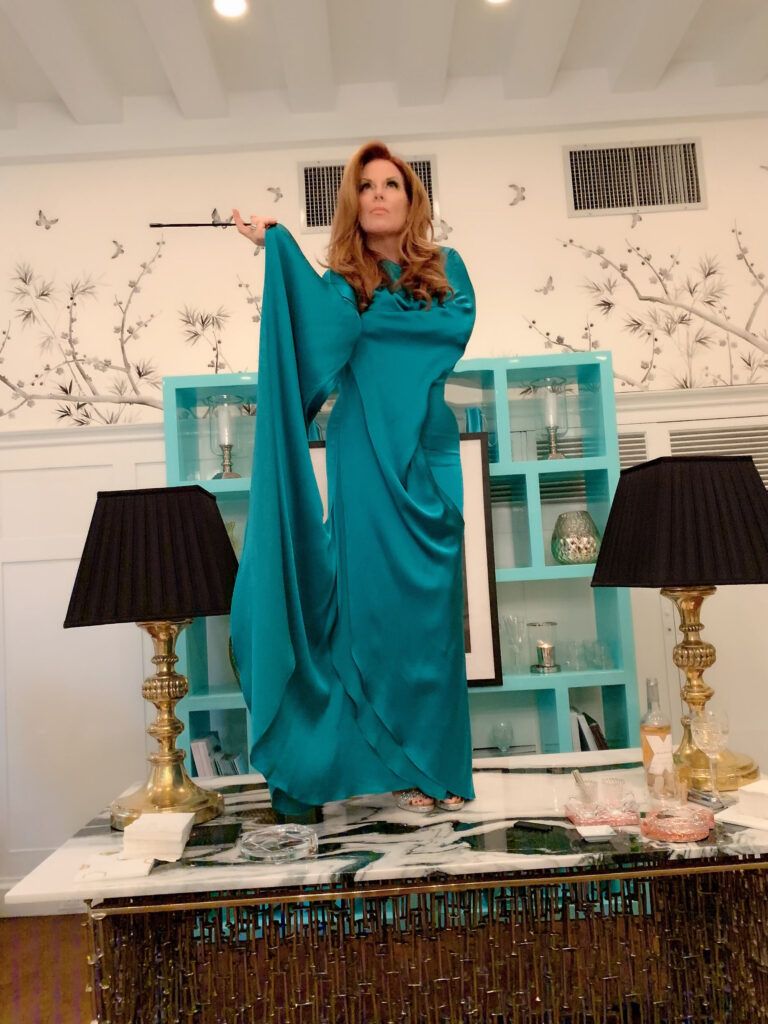 What the Frick Collection is happening here? Does Ally Coulter have magic powers? I scurried (maybe I sashayed) over to the windows pretending to admire the Janet Yonaty buttery gold silk drapes. I really did admire them but I was pretending to like them more than I really did. But I really did like them. Hi Janet!!!
Meanwhile, after commenting on the puddled effect of the drapery and the matching silk trim detail, I noticed Ms. Coulter was now talking on her phone and still standing on the desk. How on Eartha Kitt did she get that phone in her hand without leaving the desk?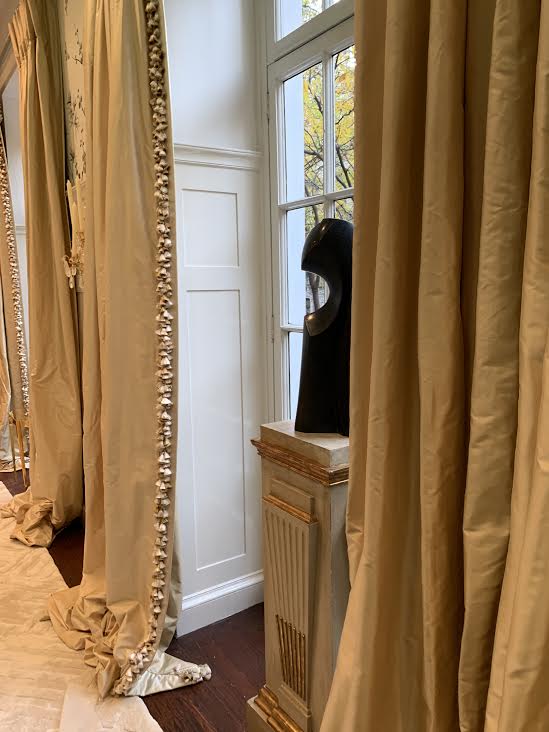 "Send them up", she said with a cool whisper. I could barely hear her while I stood in front of the 8′ tall French-doored window that looks out over busy East 65th Street. I continued admiring the silk drapes, they are finished on both sides – those children who work for Patrick Demott really know how to sew a good curtain. I put my magnifying glass back in my Tom Ford pocket and the next thing I know Ms Coulter is tossing her thick red mane in front of a 10′ tall John Himmel MODERNIST ANTIQUED REEDED GLASS Mirror. There are two flanking the fireplace. Double snap and double twirl.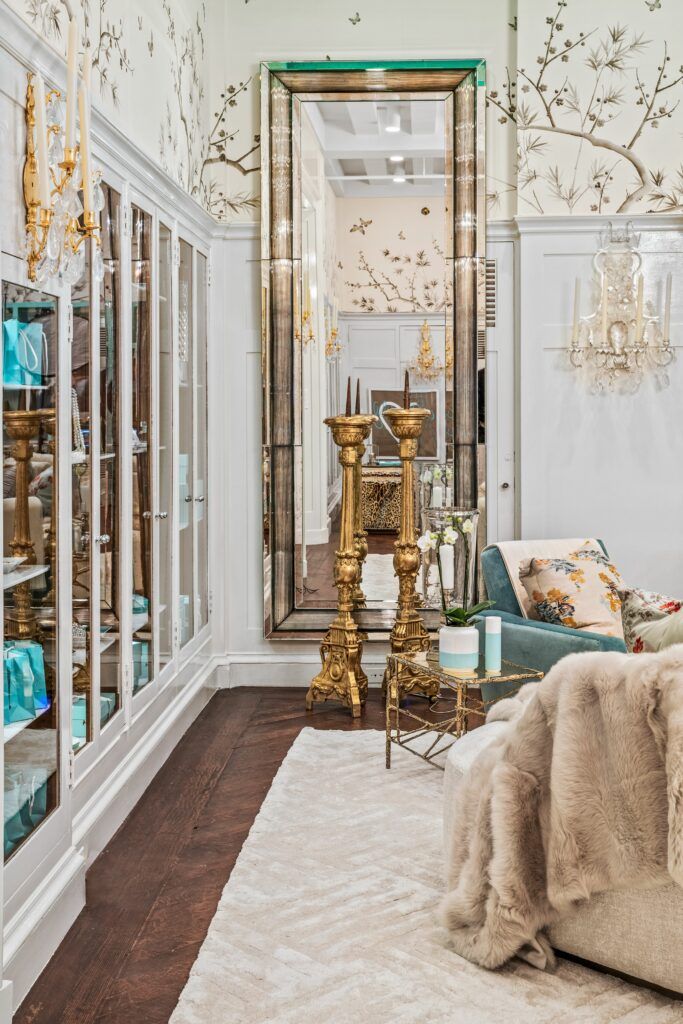 It is nice to know long stem roses can still come in big boxes with ribbons. Apparently, Ally Coulter's financier husband Eric knows someone at Winston Flowers. Two dozen long stem white roses arrived while she slipped out of her JC Romy Glitter Pumps into her JC Bling Embellished mules. She reached into her Jimmy Choo Cloud Satin Bow clutch bag and pulled out a dinner mint and origami folded twenty-dollar bill and handed it to the delivery man and quipped "here's another tip, life is a party – dress like it" – then she turned to me with a proud flirty smile and perfectly coiffed hair and gushed "Audrey Hepburn said that".
Interior Designer Ally Coulter has created breathtaking interior spaces all over the world. Her boutique East Coast firm Ally Coulter Designs is known for providing modern, high-end, residential and commercial interiors. Her love for art and culture is reflected in the luxurious styling and timeless room designs of each project.
Ally has participated in the Holiday House Design Show 6 times. Her design work has been featured in publications like The New York Times, AD PRO, Architectural Digest, FORBES Magazine, ELLE Décor, WSJ, IN-STYLE and New York Cottages and Gardens. She has collaborated with some of the leading manufacturers in design, including Fendi Casa, Luxury Living and Ralph Lauren Home. Room photographs are by the incomparable Alan Barry.